There are now a large number of industries that investors can look into if they are looking for new avenues for investment. For instance, the robotics industry was not much into focus among investors even a decade ago but now it is a thriving industry with a potentially prosperous future.
Hence, it could be a good idea for investors to consider looking into some companies in the sector. One of the companies to look into at this point is BIONIK Laboratories (OTCMKTS:BNKL). It is a robotics company with a difference since BIONIK is involved in helping people with mobility and neurological issues to move easily from the hospital to their homes.
Market Action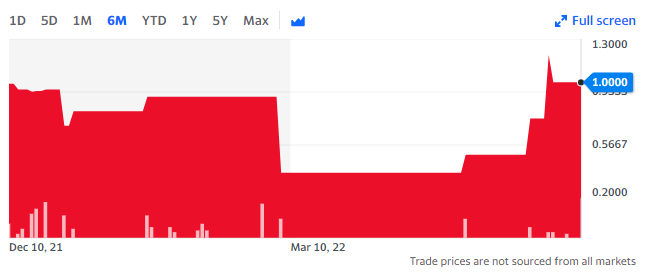 On Thursday, BNKL stock ended flat at $1 with 12 shares, compared to its average volume of 31 shares. The stock moved within a range of $1.0000 – 1.0000 after opening trade at $1.
About BIONIK Laboratories
At this point in time, BIONIK owns a portfolio of several products that are meant for providing rehabilitation to those patients who may suffer from mobility impairing conditions. Three products have already been launched and three more products are currently in different stages of development.
BIONIK Laboratories Reports Fourth Quarter and Fiscal Year 2022 Financial Results
As it happens, it was a momentous day for the company yesterday as it announced its financial results for both the fourth fiscal quarter as well as the full fiscal year. Both of those periods ended on March 31, 2022. For anyone to get a better idea about the company, a look at the financial results may often be the first port of call.
BIONIK managed to generate revenues of $0.2 million for the fourth quarter and that proved to be a steep decline from the revenues of $0.5 million posted in the prior-year period. The gross profits also declined by a whopping 60% year on year in the fourth quarter to drop to $0.1 million. The net losses widened to $1.7 million from $1 million in the prior-year period.
In the full fiscal year, the company managed to generate revenues of $1.3 million, and that actually reflected a jump from the previous year, when it had generated revenues of $1.2 million. Gross profits went up by as much as 3% and hit $ 1million. It is going to be interesting to see if the stock manages to come into focus among investors today.
Rich Russo, Chief Financial Officer, and Interim Chief Executive Officer commented, "Revenues increased 7% to $1.3 million for the fiscal year, despite the impact of the Covid-19 pandemic on our business. During the year we shipped nine units and grew our sales pipeline to its highest levels. We also made significant investments in our marketing and branding initiatives as well as continued to advance our data strategy with advancements in our machine learning and predictability modeling. In the fourth quarter, we continued to focus on growing our sales pipeline and containing costs, as we work to convert our pipeline to revenue."