While it is true that the CTT Pharmaceutical Holdings Inc (OTCMKTS:CTTH) stock has been in the middle of a selloff in the past month and declined by as much as 14% as a consequence, it may still be a good time for investors to consider taking a closer look into it.
Market Action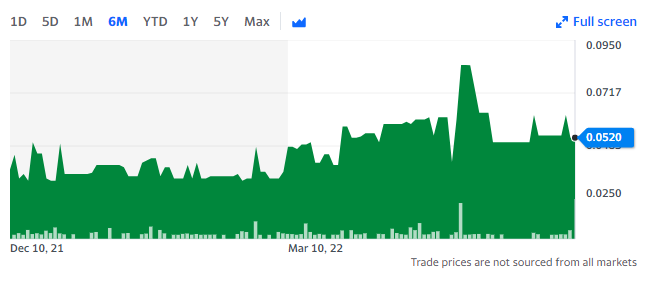 On Thursday, CTTH stock ended flat at $0.0520 with 32K shares, compared to its average volume of 12K shares. The stock moved within a range of $0.0520 – 0.0520 after opening trade at $0.0620.
About The Company
First and foremost, it is necessary to get a better idea about the sort of work that it engages in. The company is involved in the development of oral medicine delivery systems that are specifically meant for pain treatment and management. It is mainly involved in the development of medical delivery systems that are fast dissolving in nature. The main asset under CTT Pharmaceuticals' control is an orally administrative wafer for which it owns a patent.
CTT Pharmaceuticals is based out of Ottawa in Canada and had previously it had been known as Mindesta Inc. However, in July of 2015, the company changed its name to CTT Pharmaceuticals. Now that you have a fair idea about what the company does and its origins, it may now be a good time to look into some recent developments that may have an impact on the stock.
CTT Pharma Strengthens Caffeine Patent in the USA
Back on April 27, the company had come into focus after it announced that it had sent in a patent application for orally administrable strips containing caffeine. It was also noted by the company that the application was in fact a continuation in part variant considering the fact that it had been granted United States Patents for similar orally administrable strips in the past.
In addition to that, the technology on which the whole thing is based has also been deemed patentable by the United States Patent and Trademark Office. The strips dissolve in the mouth in a matter of seconds and then the caffeine gets into the bloodstream without actually going through the digestive tract. CTT Pharmaceuticals also noted that similar strips could also be used for administering other substances like B12 vitamins or CBD.
"Unlike coffee and energy drinks which has many competitors, energy strips in the US are an untapped market. This helped with my decision to strengthen our caffeine patents. CTT will look to monetize this patent-pending technology with a company looking to enter into the caffeine/energy strip market in the United States." said Ryan Khouri, CEO of CTT Pharma.
CTT Pharma CEO Issues Letter to Shareholders for Updating Nicotine Patent in the USA and President Biden's Menthol Ban
Previously on April 18, the company announced that it had sent in an application for a United States Patent for its orally administrable nicotine strips. It was noted at the time by the company as well as its Chief Executive Officer that CTT Pharmaceuticals was focused on boosting the nicotine portfolio that the company owned and it was a step in that very direction. It may be a good time to add the stock to your watch lists.
Traders Note
CTTH stock is trading above the 20-Day and 50-Day Moving averages of $0.0608 and $0.0547 respectively. Moreover, the stock is trading in the neutral zone with RSI stands at 46.