Shares of GPO Plus Inc (OTCMKTS:GPOX) continue to trend lower with the broader market. The stock fell another 9% on Monday, extending its weekly fall to 13%. Here are a few latest developments from the company.
Market Action
On Monday, GPOX stock slid 8.60% to $0.2751 with 5.7k shares, compared to its average volume of 6.89K shares. The stock moved within a range of $0.2751 – 0.3500 after opening trade at $0.35.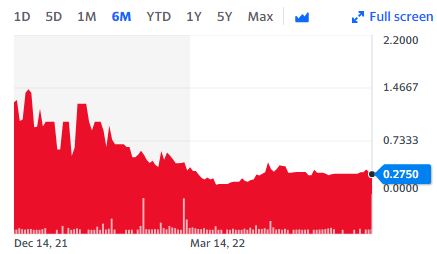 About The Company
Headquartered in Las Vegas, Nevada, GPOPlus+ (OTCMKTS:GPOX) is a publicly-traded company of diversified Group Purchasing Organizations. The company's purpose is to save businesses money through the activation of Group Purchasing and its mission is to create value for the GPO partners, members, suppliers, and shareholders.
GPOPlus+ Appointed Master Distributor for DEV Distribution
GPO Plus Inc on June 13, 2022, announced that GPOPlus+ has been appointed as Master Distributor of DEV Distribution. The agreement became effective on June 8, 2022, and ensures GPOX rights for selling and distributing DEV products with Most Favored Nations' pricing. This is the first distribution GPOX has entered after the announcement of DISTRO+, its distribution division as well as GPO for specialty retailers. In addition, this is the company's 2nd major achievement in the growth strategy furthering expansion in the vitamin, nutraceutical as well as hemp-derived CBD sectors.
DEV, a reputed manufacturer of the supplement, vitamin as well as CBD gummies, has vegan-based all-natural flavored gummies. These are available in bulk, custom formulations as well as white and private label. The company is expanding offerings for including caramels and other infused candies. The company recently moved into a state-of-the-art 27,000 sq ft production/manufacturing facility in Irving, Texas. This will augment monthly production to about 30,000,000 gummies monthly, a 300% increase over the previous location.
Brett Pojunis, CEO of GPOX expressed excitement about partnering with DEV and offering high-quality products to customers. Pojunis added that the partnership will provide customers with access to high-quality and best-tasting gummies.
Chris Martin, Managing Partner of DEV said that the company is thrilled on appointing GPOX as the Master Distributor and is confident that the partnership is beneficial for both parties.
"We are very excited to partner with DEV and offer their safe and compliant high-quality products to our customers," said Brett H. Pojunis, CEO of GPOX.
GPOPlus+ Enters Agreement to Acquire Nutriumph® Supplements and HERBERALL®
GPO Plus Inc had earlier also announced the signing of a binding letter of intent for acquiring Nutriumph Supplements including the flagship product HERBERALL from Orev, LLC. This is expected to close by June 30, 2022.
Nadege Bellissan, CEO of Nutriumph said that Nutriumph and GPOX are a match made in heaven. Bellissan added that GPOX has much experience in the wellness and health field making it a perfect partner for Nutriumph for strengthening its position in the nutraceutical market. Brett Pojunis said that the Nutriumph acquisition is the first direct-to-consumer product line GPOX has provided.
Traders Note
GPOX stock is trading below the 20-Day and 50-Day Moving averages of $0.2979 and $0.5423 respectively. Moreover, the stock is trading in the neutral zone with RSI stands at 46.