Clinical stage biotech firm Biostage Inc (OTCMKTS:BSTG) saw its stock trade within a range on Wednesday but in this sort of a situation, investors need to keep in mind that stocks can often breakout strongly from such a state as well.
Hence, it may be a good time to in fact take a look into the company and figure out if the stock may be worth tracking. Before taking a look into recent developments, investors could do well to have a bit more idea about the nature of Biostage's operations.
Market Action
On Wednesday, BSTG stock ended flat at $4.50 with 100 shares, compared to its average volume of 1.9K shares. The stock moved within a range of $4.5000 – 4.5000 after opening trade at $4.50.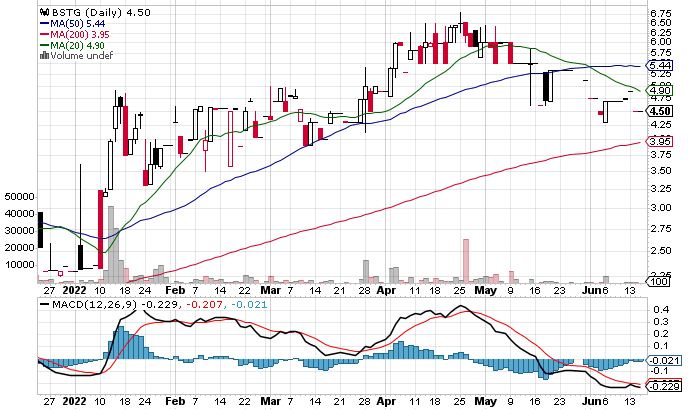 About The Company
Biostage Inc is involved in deploying cell therapy for the regeneration of organs in the human body. That may become necessary in the case of those who may have suffered defects to organs owing to cancer-related surgeries, birth defects, or trauma.
At this point in time, the company boasts of a total of 8 patents in the United States and a pair of orphan drug designations. In addition to that, there is also the prospect of being awarded two Priority Review Vouchers by the United States Food and Drug Administration.
Biostage Announces Publication of Mechanical Strength Data for Regenerated Esophageal Tissue in Journal of Biomechanics
The cell therapy technology firm was actually in the news on Wednesday after it announced that it had been successful in publishing a paper in the Journal of Biomechanics. It was a significant development for the company considering the fact that the journal is a peer reviewed one. The study that was the subject of the paper looked in the mechanical strength that is present in the regenerated tissues of an esophagus.
The study effectively noted that the regenerated tissue had the mechanical strength of the original tissues and that was a significant finding. The temporary Chief Executive Officer of the company William Fodor spoke about the development as well. He noted that the relative strengths of the regenerated and native tissues had been a question that had been posed by the United States Food and Drug Administration as well.
The paper, which had been produced through a collaboration with Exponent Inc demonstrated that the regenerated tissue could handle burst pressure to the same degree as the native tissues.
Key Quote
David Green, Interim Chief Executive Officer of Biostage, commented: "We are pleased to publish this paper in the Journal of Biomechanics. We believe this publication shows that the Biostage Esophageal Implant (BEI) stimulates the body to regenerate the esophagus and that the regenerated tissue is comparable in strength to the native esophagus."
Traders Note
BSTG stock is trading below the 20-Day and 50-Day Moving averages of $4.91 and $5.44 respectively. Moreover, the stock is trading in the neutral zone with RSI stands at 38.