It was a tough midweek in the markets for Connexa Sports (OTCMKTS:CNXA) investors as the company's stock went into a downward spiral and ended up with a decline of as much as 14% for the day. Can the stock make recovery any time soon? That is what must be on the minds of many investors and market participants. In order to possibly figure that out, it may be necessary for investors to consider having a better understanding of the company's business and also take a look at some recent developments.
Market Action
On Wednesday, CNXA stock fell 14.35% to $1.97 with 527K shares, compared to its average volume of 17K shares. The stock moved within a range of $1.8000 – 2.9200 after opening trade at $2.30.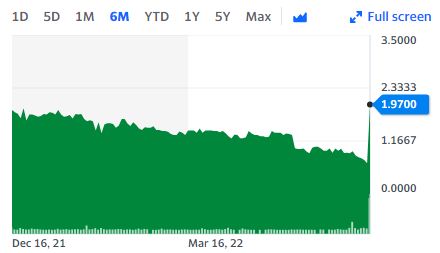 About The Company
Connexa Sports is what could be described as a connected sports company and is involved in providing services, technologies, and products in the 'Watch. Play. Learn' categories. In addition to that, the company also offers subscriptions as a service activity in the world of sports.
It should be noted that it is a sector that is growing at a fast clip and it may also be said that Connexa Sports is at the right place at the right time. Digital offerings are changing the way in which people consume sports and in addition to that, it has also changed the way in which sports has been monetized.
It has been suggested that Connexa Sports is a company that may be in a favorable position to cash in on this trend. Although the Connexa Sports stock fell sharply on Wednesday, it should be noted that there was a significant development that investors ought to take a look into.
Connexa Sports Raises $4.2 million and Lists its Stock for Trading on the Nasdaq Capital Market
The company announced yesterday that its uplisting to the NASDAQ had been completed and in fact, the stock had started trading yesterday itself. The ticker symbol CNXA remains unchanged. However, in this context, it is also necessary to keep in mind that Connexa Sports had to affect a reverse stock split in order to make sure that it fulfilled the minimum bid price requirements of the exchange. In addition to that, the company also sold as many as 1048750 shares of its common stock for $4 each to raise $4.2 million in gross proceeds.
Key Quote
"Uplisting to the Nasdaq is the next step in our evolution as a public company, particularly after our acquisitions of PlaySight, Gameface.AI, and Foundation Tennis," said Mike Ballardie, Connexa Sports CEO. "For us to come this far after only beginning operations two years ago is a tremendous feat and a testament to our dedicated employees, partners, products, and customers that have enabled this milestone."