Advanced Container Technologies Inc (OTCMKTS:ACTX) is engaged in designing and selling plastic medical-grade containers. The company markets as well as sells specially modified insulated shipping containers, GrowPods, which grow plants and spices are grown hydroponically in a controlled environment. The firm also sells Medtainer, storing pharmaceuticals, teas, and other products. Additionally, it gives lighters, humidity pack inserts, plastic lighter holders, jars as well as printing and shipping services.
Market Action
On Friday, ACTX stock ended flat at $0.95 with 1.5K shares, compared to its average volume of 1.5K shares. The stock moved within a range of $0.9500 – 0.9500 after opening trade at $0.95.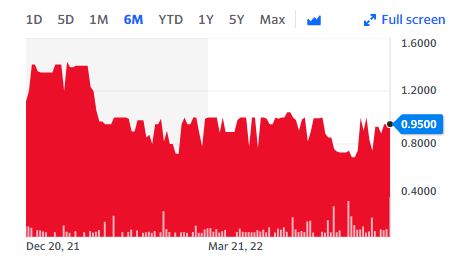 Lettuce Shortage Becoming a Global Crisis
Advanced Container Technologies Inc on June 20, 2022, announced that GrowPods – transportable modular hydroponic farms – can facilitate lowering the global lettuce shortage. The crisis, started in 2020 when California lettuce growers witnessed hotter-than-average temperatures. This led to a scarcity of icebergs as well as romaine lettuce. As per reports, lettuce prices increased by 67% as compared to the previous year in 2021. The issue is not restricted to the just United States.
Extreme weather conditions prevail in large parts of Australia resulting in the decimation of lettuce crops. This led to a surge in the price of lettuce, with select stores selling the product for about $12 and the prices may not come down soon.
A report by Agtech Tomorrow said that leafy greens including lettuce are best to grow hydroponically in units like GrowPods.The publication stated that almost all plants grow quickly hydroponically due to complete control of plants' light, nutrition, and water. It further said that romaine and Butterhead romaine lettuce can be harvested in about three weeks while iceberg can be done in just six to eight weeks. Mostly, hydroponic leafy greens offer 11-13 harvests per year.
A report by the University of Kentucky has confirmed that hydroponically grown lettuce gives longer post-harvest storage life as there is no soil involvement. GrowPods can be put anywhere and have a growth of three acres of traditional farmland in a single unit. They allow local communities to get healthy, fresh food with minimal expenses.
Doug Heldoorn, CEO of Advanced Container Technologies, said that GrowPods can be the solution to the existing food crisis. Heldoorn added that GrowPods give healthy food where needed. Additionally, the advanced systems are better for the environment cutting freight emissions as well as shipping costs. These can also lower water consumption vis-à-vis traditional farming.
Key Quote
"Almost all plants grow faster hydroponically than they do in soil-based farming methods," the publication reported. "This is because the plant's light, nutrition, and water are all under your complete control." Butterhead and romaine lettuce can be harvested as quickly as three to four weeks, and icebergs in just six to eight weeks. "In general, most hydroponic leafy greens offer 11-13 harvests per year," the publication reported.
Traders Note
ACTX stock is trading above the 20-Day and 50-Day Moving averages of $0.84 and $0.91 respectively. Moreover, the stock is trading in the neutral zone with RSI stands at 53.