This morning it may be possible that the CW Petroleum Corp (OTCMKTS:CWPE) stock may come on to the focus of investors considering the fact that it had been the focus on Tuesday as well.
Market Action
On Tuesday, CWPE stock ended flat at $0.45 with 6.2K shares, compared to its average volume of 5.6K shares. The stock moved within a range of $0.4499 – 0.4499 after opening trade at $0.38.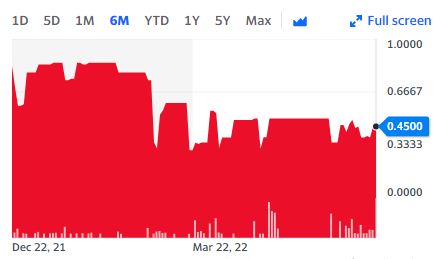 CW Petroleum Corp (CWPE): Reports 2021, Q1-2022 Revenues
The company, which had been registered in the state of Texas back in 2005, was in focus yesterday after it announced its financial results for the first fiscal quarter that had ended on March 31, 2022. CW Petroleum managed to generate revenues to the tune of as much as $1.69 million for the quarter and that reflected a massive improvement on the $11149 in revenues that it had generated in the prior-year period.
In addition to that, the company also announced its financial results for the fiscal year that had ended on December 31, 2021, and recorded revenues of $8.2 million. In light of the performance of CW Petroleum, it is quite possible for investors to sit up and take notice of the year-on-year growth in revenues in the first fiscal quarter. It now remains to be seen if it does actually happen today or not. Investors could do well to keep an eye on the stock this morning and watch for the price action.
About CW Petroleum Corp
Now that you have an idea about the latest financial performance of the company, it is perhaps now time to take a look into the nature of CW Petroleum's operations a bit more closely. However, even though it had been established in 2005, the company started its operations six years later in 2011.
In 2018, the company was registered in Wyoming. Eventually, the Texas-registered company was made a subsidiary of the company that had been incorporated in Wyoming. The subsidiary is involved in supplying as well as distributing biodiesel, sulphur diesel, blends of gasoline, blends of biodiesel and renewable gasoline among other related products.
The company has also noted that the proprietary no ethanol gasoline that it has developed is going to be promoted so that it can expand into new markets. In 2022, CW Petroleum is going to be involved in expanding the sales of the product into the Chicago market and the wider Northeastern United States market.
Traders Note
CWPE stock is trading above the 20-Day and 50-Day Moving averages of $0.42 and $0.43 respectively. Moreover, the stock is trading is the neutral zone with RSI stands at 56.