The Freeze Tag (OTCMKTS:FRZT) stock may have been trading within a range on Tuesday but at the same time, it ought to be noted that the company was in the news too. Stocks which trade within range can eventually break out too and hence, it is important for investors to figure out if that is going to happen in case of the Freeze Tag stock or not. In order to figure that out, it is perhaps firstly necessary for investors to perhaps take a look at the nature of the company and the sort of business it is involved in.
Market Action
On Tuesday, FRZT stock ended flat at $0.0160 with 49K shares, compared to its average volume of 34K shares. The stock moved within a range of $0.0160 – 0.0160 after opening trade at $0.0160.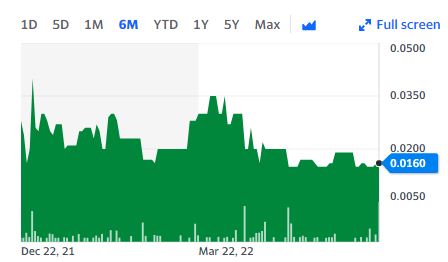 About Freeze Tag
The company is involved in the development of location-based mobile games for businesses and consumers.
One of the more important products in the company's portfolio is the social platform named Munzee, which boasts of as many as 12 million locations all over the world. It also hosts hundreds of thousands of people who participate in the platform that combines gaming with geolocation and as a reward helps people in going to different places as rewards.
However, that is not the only product in its portfolio. There are many more games in Freeze Tag's portfolio and the company is working on becoming a major operator in this particular industry.
Passport to Jupiter App Launched With Freeze Tag's Eventzee Technology
The company announced yesterday that Jupiter in Florida had finally launched the 'Passport to Jupiter' initiative. The initiative is powered by the Eventzee white label app that has been developed by Freeze Tag. The launch of the 'Passport to Jupiter' app was an important development for Freeze Tag and demonstrates the effectiveness of its while label app on a large scale. The app for 'Passport to Jupiter' is free to download and is available on both the Google as well as Apple stores for apps. It has been designed in such a way that anyone can get the opportunity to explore some of the major sports throughout the expanse of the city of Jupiter. There are six different classifications of locations that have been included in the app and is expected to provide people with an excellent experience of the city.
Key Quote
"We love opportunities to work with clients like the town of Jupiter," said  Craig Holland, CEO of Freeze Tag.  "Their app is the perfect example of utilizing our scavenger hunt platform with the option of making it a totally custom experience for users."
Traders Note
FRZT stock is trading below the 20-Day and 50-Day Moving averages of $0.0165 and $0.0219 respectively. Moreover, the stock is trading in the oversold zone with RSI stands at 42.