The poker industry remains one of the more thriving segments of the global gaming industry and investors who are interested in the sector could consider taking a look at a number of such companies. One of the companies from the sector to have come into focus this week is The World Poker Store Inc (OTCMKTS:WPKS). The stock was on the radars of investors yesterday and had managed to clock gains of as much as 4% for the day.
Market Action
On Wednesday, WPKS stock moved up 4.12% to $0.1151 with 25K shares, compared to its average volume of 18K shares. The stock moved within a range of $0.1151 – 0.1500 after opening trade at $0.15.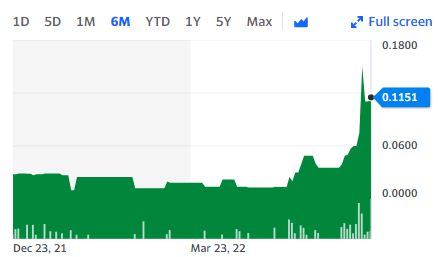 About The company
World Poker Store Inc is best known for running and managing poker tournaments in the United States and also in different parts of the rest of the world. However, that is not all. The World Poker Store is also well known for offering a wide range of products that are necessary for staging a game of poker.
The company offers playing cards, varied poker supplies, poker chip cases, wood chip cases, poker chip sets, and poker tables among others. In addition to that, customers can also buy poker-related DVDs and poker books from The World Poker Store. The rally in the stock may have come about owing to a new announcement from the company.
World Poker Store Inc. Completes Documentary Filings for Merger with Genuine Marketing Group Inc.
The company announced yesterday that it had concluded all the necessary filings with the Secretaries of the State of Nevada and Minnesota for the approval and certification of its upcoming merger with Genuine Marketing Group Inc. Genuine Marketing Group is based out of Minnesota and it is expected that the merger may be completed by July 15, 2022.
It was a major new announcement from The World Poker Store and it seems that it generated a fair degree of excitement among investors. It is going to be interesting to see if the stock can manage to hold on to its momentum and add to its gains over the coming days.
The certificate of the merger had been issued by the Secretary of State of Minnesota back on June 16, 2022, and it was on the next day that the certificate was issued by the Secretary of State of Nevada. It may be a good idea to keep an eye on further developments on this front.
Traders Note
WPKS stock is trading above the 20-Day and 50-Day Moving averages of $0.0589 and $0.0331 respectively. Moreover, the stock is trading in the neutral zone with RSI stands at 69.