The plant-based organic products space has grown at a pretty impressive pace in recent years and it is expected to grow further in the coming years. Hence, it may be a good idea for investors to consider tracking some of the major players in that particular space. One of the companies in this particular space that may be looked into by investors at this point in time is NutraNomics Inc (OTCMKTS:NNRX).
Market Action
On Thursday, NNRX stock ended flat at $0.0003 with 86.31 million shares, compared to its average volume of 191.69 million shares. The stock moved within a range of $0.0002 – 0.0003 after opening trade at $0.0003.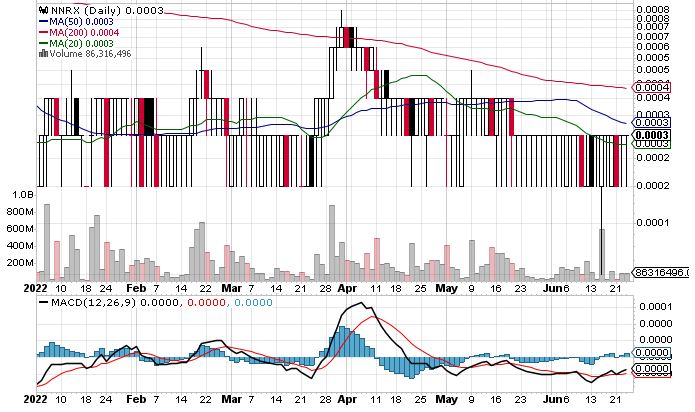 About The Company
NutraNomics has been one of the long-standing operators in this relatively new space and has been in operation since as far back as 1996. The company was in the news cycle yesterday after it provided an update with regards to the top-line performance so far and the expectations it had for the year 2022. It should be noted that one of the biggest highlights of the second fiscal quarter for NutraNomics was the acquisition of DHS Development Inc.
NutraNomics Announces 2022 Topline Sales Expectations of $10.2M Based on Data from Current Operations and Upcoming Expansion in Active Product Lines
NutraNomics announced yesterday that in the first four calendar months of 2022, it had managed to generate sales to the tune of as much as $1.09 million. That represented a considerable improvement of as much as 217% on the performance in the corresponding period last year.
However, that was not all. There was another significant announcement from NutraNomics which may come as a source of significant enthusiasm for investors. NutraNomics announced that on the basis of the broader market projections and upcoming product releases, the management expects that monthly income is going to go up at a steady pace.
It projected month-over-month performance to rise by 25% through the course of 2022. That would work out to total sales of as much as $10.2 million. The Chief Executive Officer of the company, Jonathan Bishop, spoke about the projections as well. He noted that NutraNomics had considerable market insights and on top of that the performance of DHS Development, its most recent acquisition, has also been one of the factors behind the optimism. It now remains to be seen if the bullish projections lead to any kind of move in the NutraNomics stock over the coming days or not.
Key Quote
"We have enough insight into the market and the performance we are seeing from our recent acquisition to make some forecasts through year end, with the data being driven by sales of Bulk Concentrates, Contract Manufacturing, Co-Packing, Pre-rolls, and Gummies," remarked Jonathan Bishop, CEO of NutraNomics. "Those operating divisions are now active and reflected in year-to-date sales data."
Traders Note
NNRX stock is trading above the 20-Day and 50-Day Moving averages of $0.0003 and $0.0003 respectively. Moreover, the stock is trading in the oversold zone with RSI stands at 50.