On Thursday there were plenty of stocks that had managed to make significant gains and one of those was the Sky Fidelity Inc (OTCMKTS:SRMX) stock, which ended the day with gains of as much as 13%. In light of such gains, it could well be the right time for investors to start taking an interest in the stock. The best way of going about it is by getting a better idea about the nature of the company's business and then taking a look at the latest developments.
Market Action
On Thursday, SRMX stock moved up 12.50% to $0.0004 with 213.93 million shares, compared to its average volume of 89.98 million shares. The stock moved within a range of $0.0004 – 0.0006 after opening trade at $0.0004.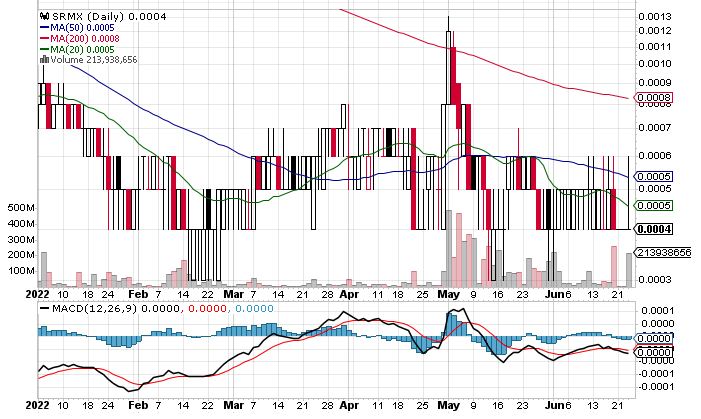 About The Company
Sky Fidelity is a diversified tech firm that offers a wide range of solutions. It is known for offering cloud-based solutions, satellite broadband, solar power, and also WiFi-enabled camera surveillance products. On the other hand, it also offers IoT or Inter of Things products to both consumers as well as enterprises.
Tri Cascade announces that its TRITOM SBC700 4G LTE Gateway product, certified by T-Mobile and which offers rugged hardware design and flexible deployment options, is now available for TMobile's 4G LTE network.
As it happens, news related to the IoT industry may have been responsible for the rally in the stock that was seen yesterday. The company in question is the IoTcompany Tri Cascade Inc, which is a subsidiary unit of Saddle Ranch Media.
The announcement was with regards to the product named TRITOM SBC700 4G LTE CAT1 Gateway from Tri Cascade. It was announced yesterday that the product had been awarded the necessary certification and was now ready to be connected to the LTE network that belongs to T Mobile. It was a significant new development for Tri Cascade and one that could open the gates for other companies in the sector too in a big way.
The gateway that has been developed is specifically meant for mobile-based environments. Some of the applications of the gateway could be in field services, public safety, and fleet management among others. If the product does prove to be a success then it might be a boon for companies like Sky Fidelity which are also involved in the IoT space in a big way. It now remains to be seen if the boost that the stock got yesterday is going to last or not and if it manages to add to its gains today.
Key Quote
"As Tri Cascade continues to bring new devices to the IoT market our goal is to utilize our carrier partner certifications and recognition to help drive Tri Cascade's position as a leading IoT developer and OEM. With this T-Mobile certified device, we will look to use the vast partner and VAR network to help in driving sales. We look forward to launching many new devices in 2022 to meet the growing market need for IoT innovation." said Jerome Riordan, Vice President of Global Business Development and Sales of Tri Cascade, Inc.
Traders Note
SRMX stock is trading below the 20-Day and 50-Day Moving averages of $0.0005 and $0.0005 respectively. Moreover, the stock is trading in the neutral zone with RSI stands at 43.