1st Capital Bank (OTCMKTS:FISB) provides a diverse range of credit products, including loans under a number of government programs such as the U.S. Department of Agriculture and the U.S. Small Business Administration. The company's markets are professionals, commercial enterprises, family business entities, real estate investors, and residents along with the Central Coast of California. The bank has operations in Monterey, Salinas, San Luis Obispo, King City, and Santa Cruz. The corporate office of the bank is located at 150 Main Street, Suite 150, Salinas, Calif. 93901.
Market Action
On Friday, FISB stock ended flat at $12.65 with 314 shares, compared to its average volume of 2.7K shares. The stock moved within a range of $12.65 – 12.65 after opening trade at $12.65.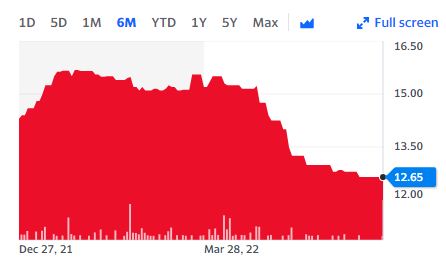 Latest News
1st Capital Bancorp, the $1.01 billion-asset bank holding company and parent company of 1st Capital Bank, on June 24, 2022, announced the appointment of Jeff Mercer as the chief credit officer starting July 1, 2022. Prior to his appointment, Mercer was the Bank's deputy chief credit officer. He has almost three decades of experience in commercial banking including leadership positions in credit operations and lending at Bank of America, Community West Bank, and Rabbo Bank. Jon Ditlevsen will be assuming responsibilities and title of chief lending officer.
Earlier, 1st Capital Bancorp had announced changes to the Executive Management Team. Executive Vice President and Chief Lending Officer has confirmed the firm his intent to retire on June 30, 2022. President Jon Ditlevsen had assumed Mr. Tripp's duties. Furthermore, Executive Vice President and Chief Credit Officer, Marci Davis submitted her resignation on May 24. Jeff Mercer was named the Interim Chief Credit Officer at the time.
1st Capital Bancorp had come out with its unaudited net income of $2.09 million for the quarter ending March 31, 2022. It witnessed an increase of 10.65% vis-à-vis $1.89 million for the quarter ending December 31, 2021. Furthermore, it saw an increase of 36.12% vis-à-vis net income of $1.54 million for the quarter ending March 31, 2021. The company's quarter one net interest income also rose by$320 thousand to $7.99 million as compared with $7.67 million for the quarter ending December 31, 2021. As of March 31, 2022, the company had total assets, total deposits, and total loans of $1.01 billion, $922.2 million, and $580.2 million, respectively. The CEO, Sam Jimenez, had expressed delight in the positive trends in the operating performance.
Traders Note
FISB stock is trading below the 20-Day and 50-Day Moving averages of $13.78 and $14.66 respectively. Moreover, the stock is trading is the oversold zone with RSI stands at 10.