The week did not start off on a great note for investors in Valiant Eagle Inc (OTCMKTS:PSRU) as the company's stock suffered from a steep selloff and ended the day with a decline of as much as 11% as a consequence. Before delving into the specific development that may have led to the decline in the stock yesterday, it may be a good move for investors to perhaps get a better of idea of Valiant Eagle's business operations.
Market Action
On Monday, PSRU stock moved down 11.11% to $0.0008 with 4.2 million shares, compared to its average volume of 15.91 million shares. The stock moved within a range of $0.0008 – 0.0010 after opening trade at $0.0009.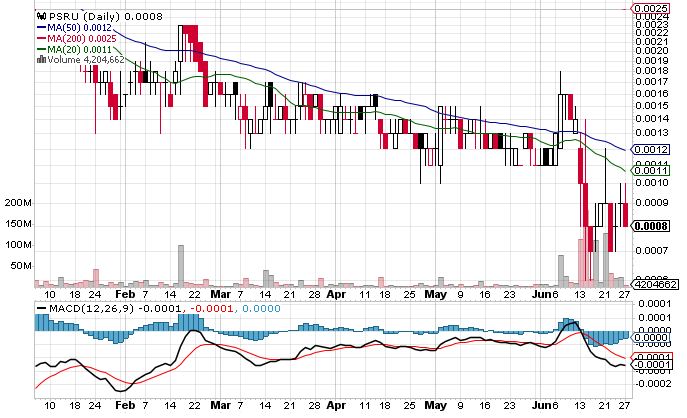 About Valiant Eagle
The company is involved in television communications, social media, and celebrity management spaces. Valiant Eagle has developed a range of tools that can help a viewer get information on a range of topics starting from entertainment and music to sports.
In the past, it had been known as PureSpectrum Inc but later on, in February of 2020, it changes its name to the present one. Valiant Eagle is based out of Woodland Hills in the state of California.
Valiant Eagle Inc. (OTC:PSRU) Proudly Launches The Registration Page For Its NFT Marketplace, Fungy
The company was in the news yesterday after it made an announcement with regards to Fungy, the soon-to-be-launched NFT marketplace. Valiant Eagle announced yesterday that the early registration for the marketplace had been opened.
The initial registration is going to be open for 1000 accounts and the account holders are going to be considered pioneers of the marketplace. In addition to that, those account holders are also going to be entitled to certain exclusive perks from Fungy for as long as they have their accounts.
Xavier Mitchell, who is the Chief Executive Officer of the company spoke about the scheme as well. He noted that even though all account holders in Fungy are going to be as valuable to the company, the first 1000 account holders in the marketplace are going to have a special place.
Since those are the customers who first showed a degree of belief and trust in the product. He went on to add that all startups needed a degree of belief from the first users in order to eventually grow hence, Valiant Eagle had decided to offer those perks to the first 1000 sing-ups.
Key Quote
Xavier Mitchell, Valiant Eagle CEO says, Although we value all users of Fungy, our pioneers will have a very special place in our lives. They are those who believed in us first. Every startup needs those champions to help grow and that is the role our pioneers will play and be compensated accordingly via perks.
Traders Note
PSRU stock is trading below the 20-Day and 50-Day Moving averages of $0.0010 and $0.0012 respectively. Moreover, the stock is trading in the oversold zone with RSI stands at 41.