Based in Carlsbad, California, V Group Inc (OTCMKTS:VGID) gives beverages in the United States. It gives antioxidant nutritional drinks in natural flavors such as Powerful Purple, Love Red, Outrageous Orange as well as Raw Green under the brand.
Market Action
On Tuesday, VGID stock slumped 25% to $0.0006 with 429.15 million shares, compared to its average volume of 45.62 million shares. The stock moved within a range of $0.4197 – 0.4197 after opening trade at $0.4197.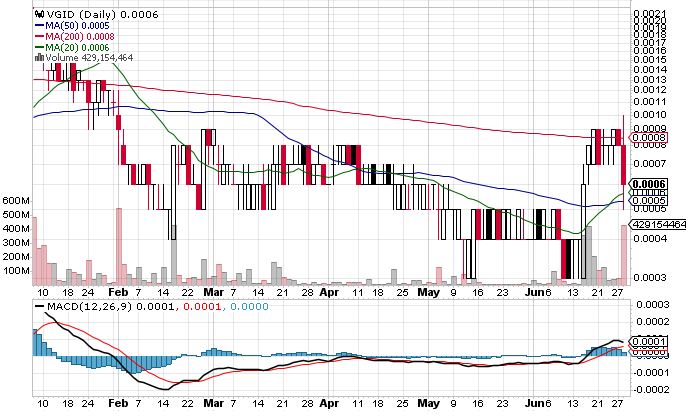 V Group Acquires Lifestyle Adult Beverage Brand!
Company on June 28, 2022, announced that the firm has finished an acquisition in the Flavored Malt Beverage market. Earlier, on June 23, 2022, the firm had finished the acquisition of beverage brand Moonlight Beach Cooler. The cooler is a carbonated malt beverage, which would be competing in the rapidly expanding 'Flavored Malt Beverage,""Alternative Alcohol" market.
Both Moonlight Beach Cooler and V Group have accepted the acquisition without disrupting the present share structure of V Group. Moonlight will be offered in three all-natural flavors: Mixed Berry, Tropical Citrus as well as Luau Fruit. The 12oz slim gives surf scenes and a thrilling beach with assorted colors exciting the senses and portraying an adventure image. It will feature flavors bolder than current options in the marketplace. Every 100 12oz only contains 100 calories with 5% alcohol making it a quintessential product for an active lifestyle.
In the 1970s and 1980s, California Cooler invented a category known as "Wine Cooler". The category grew quickly with offerings from Bartle's and Seagram's as well as James, among others. However, the advent of the Micro-Brewery explosion made the category obsolete.
The next evolution of Flavored Malt Beverages arrived like an explosion, known as "Hard Seltzers."They have become a category generating multi-billions of dollars in revenues. V Group opines it is time on reinventing Flavored Malt Beverage Market again! The new "Beach Cooler" combines the full flavor of wine coolers of the '80s and '90s with the low-calorie crispiness of the 21st century.
V Group has given a contract to a brewery located in Southern California capable of canning a novel formulation of Moonlight Beach Cooler. The first production is scheduled for the 2nd week of August 2022 with extra productions as may be required. While the initial production will comprise 20 pallets of the finished product, Moonlight Beach Cooler will be packaged in a 12-pack case. The entire first production has been sold to a reputed grocery chain willing to promote the brand.
Traders Note
VGID stock is trading above the 20-Day and 50-Day Moving averages of $0.0006 and $0.0006 respectively. Moreover, the stock is trading in the neutral zone with RSI stands at 50.