On Wednesday, Green Planet Group (OTCMKTS:GNPG) had come on to the radars of investors following a key announcement and that led to a 3% upward move in the stock as well. Before going into the actual announcement, it could be a sound move for investors to possibly take a closer look at the nature of the company's business.
Market Action
On Wednesday, GNPG stock ended flat at $0.0135 with 859K shares, compared to its average volume of 25K shares. The stock moved within a range of $0.0135 – 0.0135 after opening trade at $0.0135.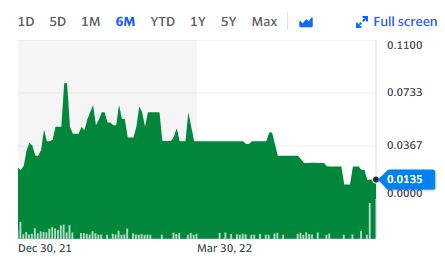 About The Company
Green Planet Group is a holding company that consists of a total of four subsidiary units. Two of those subsidiaries are already operating while the other two are still at a developmental stage. One of the subsidiaries, named Healing the Earth, had managed to come up with a Fast Track growing system that can help in growing considerable amounts of organic food with minimal use of water. On the other hand, the subsidiary named XenTx Lubricants has involved in the production of lubricants as well as additives for engines that run on diesel and gasoline.
The two developmental stage subsidiaries are AAQIS, which is working on the development of a hydrogen generator and the other is Green Mining Technologies, which is working on the development of restorative tech for placer mine tailings.
Green Planet Announces Sale Of Food Growing System
Yesterday, Green Planet Group came into focus among investors after it announced that its subsidiary unit Healing the Earth had completed a deal in which it sold its Fast Track growing system to the company HG Livestock LLC. The system will now be deployed towards the growing of barley that is meant for beef cattle. The farm in which the system is going to be deployed is situated in Peyton in Colorado.
The beef industry is the biggest agricultural niche in the state and beef sales make up as much as $4 billion on a yearly basis. At this point in time, there are as many as 15000 active producers in the state, and on top of that, the industry has also been successful in creating 170000 jobs. The sale of the technology from Green Planet Group's subsidiary unit is a significant development and it remains to be seen if the company's stock can hold on to its momentum today.
Key Quote
Mr. Steve Hammers, the President/CEO  stated, "Only by using the latest food growing technology can the beef industry survive in Colorado, and I selected the Healing the Earth system because it provides daily organic, highly nutritious barley fodder using just 3% of the water as field produced crops, at a very competitive cost".
Traders Note
GNPG stock is trading below the 20-Day and 50-Day Moving averages of $0.0266 and $0.0385 respectively. Moreover, the stock is trading in the oversold zone with RSI stands at 33.