While it is true that the Ubiquitech Software Corp (OTCMKTS:UBQU) stock was trading within a range on Thursday, it should also be noted that stocks trading in a range can also break out strongly, and hence, these stocks could also be tracked closely by investors. In order to get a better idea about the company, it may be a good idea for investors to first take a look at the nature of the company's business.
Market Action
On Thursday, UBQU stock ended flat at $0.0002 with 16.23 million shares, compared to its average volume of 84.46 million shares. The stock moved within a range of $0.0001 – 0.0002 after opening trade at $0.0001.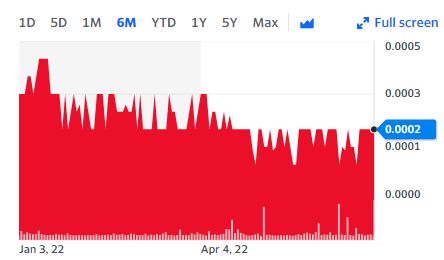 About Ubiquitech Software
The company is primarily known for its subsidiary CannzALL.com, through which it is looking to become one of the leaders in the hemp-based CBD healthcare industry. The company uses a multitude of tools starting from its own advanced internet marketing tool, television, radio, SEO, internet content, and other well-known techniques to drive traffic to the CannzALL.com website. All this is done by the company for the purpose of making the website a leader in an industry that is worth billions of dollars.
Cannazall.com Announces New "Ships In 24 Hours or it's Free" Holiday Weekend Sale!
As it happens, Ubiquitech Software was in the news yesterday after it announced a major new promotion on CannzALL.com. Although the announcement did not lead to any action in the company's stock it could still prove to be a boost for the company. It announced the launch of the 'Ships in 24 Hours or it's free' holiday sale.
The promotional offer was started by the company yesterday and it is going to continue up until July 4. Ubiquitech Software noted that it launched this offer not only to reward its loyal base of customers but also to show that it was committed to lightning-quick shipping and delivery.
James Ballas, who is the Chief Executive Officer of the company, noted that the company is not only known for providing the highest quality of CBD products but its customers have also come to expect super-fast deliveries.
Hence, the company decided to launch this challenge during the holiday season so as to fulfill as many orders as possible. More importantly, it could also lead to a deluge of orders from customers during the weekend and that could only be a good thing for Ubiquitech Software.
Key Quote
CEO James Ballas said "Along with offering the highest quality Colorado grown and formulated CBD products the Cannazall brand features super-fast shipping and delivery as we know that this is what customers have come to expect. So, we are happy to make this public challenge and get as many orders filled as possible this weekend and get more and more people experiencing the Cannazall difference"
Traders Note
UBQU stock is trading above the 20-Day and 50-Day Moving averages of $0.0002 and $0.0002 respectively. Moreover, the stock is trading in the neutral zone with RSI stands at 53.