This past Friday Orion Diversified Holding Co Inc (OTCMKTS:OODH) was trading within a range but that is no reason why the stock ought to be ignored at the start of the trading week. It is important for investors to keep in mind that stocks that may be in a range could also break out and hence, it may be a good move to take a closer look at Orion Diversified Holding as a company.
Market Action
On Friday, OODH stock ended flat at $0.0300 with 172K shares, compared to its average volume of 122K shares. The stock moved within a range of $0.0300 – 0.0360 after opening trade at $0.0300.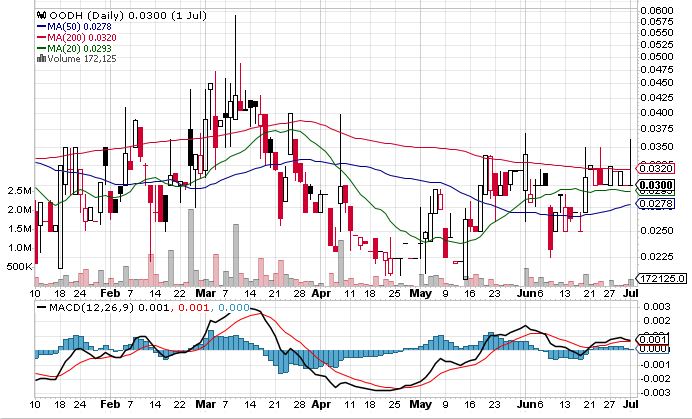 About The Company
Orion Diversified Holding is mainly involved in picking up working interests or non-operated working interests and sometimes mineral interests in the oil and gas industry. The main area of focus for Orion Diversified Holding is premier basins that are located across the United States.
Orion Diversified Announces an Acquisition in the Powder River Basin
As it happens, the company had been in the news back on Friday when it announced that it had been successful in completing the acquisition of a key royalty interest.
The royalty interest in question had been acquired in the company Converse County Wyoming and Orion Diversified Holding managed to pick up royalty interest to the tune of 0.625% in a property spanning 320 acres. In this context, it is perhaps also necessary for investors to take a look at the sort of acreage in which the company owns interests.
At this point in time, the company holds interests in acreage spanning to the tune of as much as 20561 acres. The areas in which it owns its interests are Powder River Basin, Woodford Shale, Niobrara Shale, Eagle Ford Shale, Haynesville Shale, Bakken Shale, and Permian Basin.
The Chief Executive Officer of Orion Diversified Holding also spoke about the development. He noted that considering the sort of acreage that the company now has under its control, it has now become quite frequent for it to land drill permits. He went on to note that the Permian Basin property that spans an area of as much as 9280 acres also has the requisite gas infrastructure at the producing wells. It is going to be interesting to see if the latest development leads to further interest in the stock or not this week.
Key Quote
"We are starting to see new drilling permits are being filed in our lands. With this much acreage owned the drill bit is already starting to find us. " commented Tom Lull, CEO of Orion. " Our 9280 acre property located in the Permian Basin of Pecos County Texas has gas infrastructure in place with producing wells. The Wolf Camp shale is one of the most prolific oil and gas producing fields in the US and the shale is located in the southeast corner of Pecos County near our property. The Powder River Basin in Wyoming is ramping up with leasing activity and there are 5000 wells planned to be drilled in this Basin over the next five years. You can see on the map there are already producing horizontals and we are surrounded by leasing activity."
Traders Note
OODH stock is trading above the 20-Day and 50-Day Moving averages of $0.0299 and $0.0278 respectively. Moreover, the stock is trading in the neutral zone with RSI stands at 51.