Shares of Rocky Mountain High Brands Inc (OTCMKTS:RMHB) have been showing a bullish move over the past few weeks with the stock gaining almost 19% over the past month. Moreover, one should note that unlike, other penny stocks, RMHB stock has been moving within a narrow range over the past year.
Market Action
On Wednesday, RMHB stock moved up 1.28% to $0.0238 with 17K shares, compared to its average volume of 63K shares. The stock moved within a range of $0.0176 – 0.0238 after opening trade at $0.0238.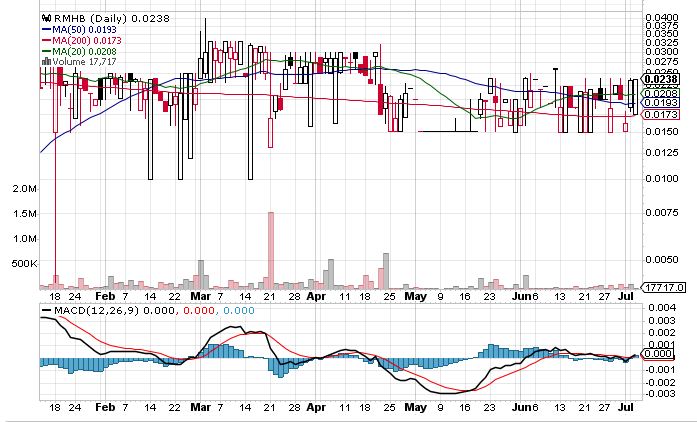 About The Company
Headquartered in Plano, Texas, Rocky Mountain High Brands Inc is operating as a lifestyle brand management company. The firm is engaged in developing, manufacturing, marketing as well as distributing hemp oil and hemp extract-infused products.
The firm is in a number of categories including fitness, food, beverage, skincare, and some more products. It also gives CBD-infused waters, water-soluble concentrates, gummies, capsules, and serenity hemp lotions.
Additionally, it provides low-calorie coconut energy lime, naturally flavored citrus and mango energy drinks, and naturally flavored lemonade. Rocky Mountain High Brands Inc provides under HEMPd, Rocky Mountain High, Smarterita, HEMPFIT, Blue Leaf, Totally Hemp Crazy, Rock the Road Trip, and Eagle Spirit names. The company markets the products through retailers, distributors as well as online. Formerly known as Totally Hemp Crazy Inc, the company altered its name to Rocky Mountain High Brands, Inc. in October 2014.
Rocky Mountain High Brands Launches New Subsidiary, Rocky Mountain NexBev, Inc.
Rocky Mountain High Brands Inc on July 6, 2022, announced the launch of a wholly-owned subsidiary, Rocky Mountain NexBev, which will specialize in cannabis beverages. The subsidiary will be working on ensuring CBD Life Mexico S.A. de C.Vhas a product and will build its HEMPd brand by harnessing a robust network of cannabis co-packers throughout the United States.
CBD Life is exceeding expectations and driving brand growth in Mexico. The three bestselling CBD beverages have strengthened the position. With a surging consumer appetite for CBD-infused beverages, NexBev is witnessing robust growth for the products. The company is looking forward to expanding and rewarding relationships with CBD Life in the coming years. The firm will continue producing as well as developing innovative beverage options for CBD Life.
NexBev has adequate expertise as well as knowledge of formulations, manufacturing, and R&D of Cannabinol and hemp-infused beverages. Furthermore, it will be collaborating with co-packers for providing services like tunnel pasteurization,cold-fill carbonation, and hot-fill/nitrogen dosage.
Great Choice is a registered trademark owned by RMHB. Its products include Great Choice Medicated Chest Rub, Pediatric Electrolyte Solution, and Infant Rub. The products are National Brand Equivalent products, which is a rapidly growing market.
The company had announced earlier that the wholly-owned subsidiary, Rocky Mountain ProductionsInc, has upgraded deionized water systems and reverse osmosis. It also confirmed the acquisition of equipment and additional machinery. The main reason is to augment production ability, value, and variety.
NexBev has the necessary expertise and knowledge of manufacturing, formulations, and R&D of Cannabinol (CBD) and hemp-infused beverages to ensure a successful launch of product lines. NexBev will work in conjunction with qualified co-packers to provide services such as cold-fill carbonation, tunnel pasteurization, and hot-fill/nitrogen dosage. Our speed to market will give us a chance to profit from the early entrance.
Reverse osmosis, a water filtration process, helps reduce unwanted minerals and other impurities in drinking water. Deionized water removes most ions from water, including iron, sodium, sulfate, and copper.The additional equipment is related to an increase in the efficiency and capabilities of the manufacturing abilities. The end goal is to provide high-quality products to clients and customers. The upgrades improve operations as well as production capacity and lower costs.
Traders Note
RMHB stock is trading above the 20-Day and 50-Day Moving averages of $0.0207 and $0.0193 respectively. Moreover, the stock is trading in the neutral zone with RSI stands at 55. The stock is down 17% over the past 3-month. The stock has a total market capitalization of 6.902 million with 495.38 million outstanding shares. Moreover, the company has 97.27% or 481.85 million floating shares.