It is a given that investors are almost always going to be on the lookout for companies that may be a bit under the radar and it often proves to be a good strategy more often than not. However, finding such companies may often require a lot of research. One of the companies that could be included in this category at this point in time is Farmhouse Inc (OTCMKTS:FMHS).
The company operates through a range of divisions and one of the more well-known divisions at Farmhouse at this point is WeedClub. It is a platform that is meant to be a social platform for professionals. It helps them in connecting with each other, and discover new products and services which can help them in scaling up their businesses effectively. Farmhouse believes that it has created a platform that could be a trusted one for professionals in the industry.
Market Action
On Thursday, FMHS stock ended flat at $1 with 52 shares, compared to its average volume of 45 shares. The stock moved within a range of $1.0000 – 1.0000 after opening trade at $1.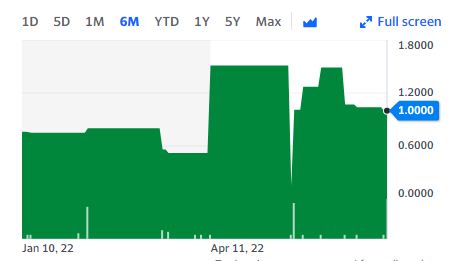 Farmhouse Announces Licensing Agreement With Bored Ape Yacht Club #420 Owner
Yesterday, the company had been in the news and it could be a good move for investors to look into the news closely. The company announced yesterday that it had managed to reach a licensing agreement with the Bored Ape Yacht Club.
The licensing agreement in question is an important one for the company since it is going to be a part of its expansion strategy by way of which it is going to connect the NFT (non-fungible token) community with some of the better-known cannabis brands.
In addition to that, it is going to help Farmhouse in boosting its intellectual property portfolio considerably. The portfolio is now going to include Bored Ape Yacht Club, Bored Ape Kennel Club, Mutant Ape Yacht Club, Doodles, CryptoToadz, CryptoPunks, and Otherdeed.
Evan Horowitz, who is the Chief Executive Officer of Farmhouse, spoke about the latest development as well. He noted that Farmhouse is a company that has managed to successfully deliver value for NFT holders on a consistent basis by making it easier to connect to excusing licensing agreements with retailers as well as well-known cannabis brands.
He went on to add that considering the fact that Farmhouse has already managed to establish a network made up of as many as 5000 cannabis industry professionals, the company has become an important part of the nexus between cannabis and the NFT culture.
The latest licensing agreement is also an acknowledgment of the fact that the company has the wherewithal to grow its NFT business meaningfully. With the expansion of the intellectual property portfolio and a growing Twitter following of 97000 plus followers, Farmhouse is becoming a major player in the cannabis NFT space.
Key Quote
"Farmhouse continues to drive value for NFT holders by connecting them to exclusive licensing opportunities with established cannabis brands and retailers. With our network of over 5,000 cannabis professionals, were becoming the nexus for NFT culture and cannabis," said Evan Horowtiz, CEO of Farmhouse.
Farmhouse Announces Partnership With Urbana to Feature Bored Ape Yacht Club #2186 Strain
Earlier on in the year on May 13, the company had made another major announcement. It announced that it had reached an agreement with Urbana by way of which the 'Oro Blanco' Bored Ape Yacht Club strain was going to make available on the shelves at a pair of locations in San Francisco. It was an important development and underlined the expansion strategy that Farmhouse had put in place.