Emergent Health Corp curates' (OTCMKTS:EMGE) products and companies and sells services in the Regenerative Health Space. The products consist of ingestible and topicals for the entire family. The firm aims to distribute the products online and through content-based shopping harnessing Influencers to position products across the US and globally. Its newly acquired subsidiary, PharmaZu, is a service provider focusing on the pet community and wellness including vet telehealth, pet pharmacy as well as pet wellness businesses. The firm does not claim any of the products being approved by the FDA to treat or cure any disease.
Market Action
On Friday, EMGE stock fell 1.54% to $0.0128 with 25.06 million shares, compared to its average volume of 3.97 million shares. The stock moved within a range of $0.0120 – 0.0154 after opening trade at $0.0140.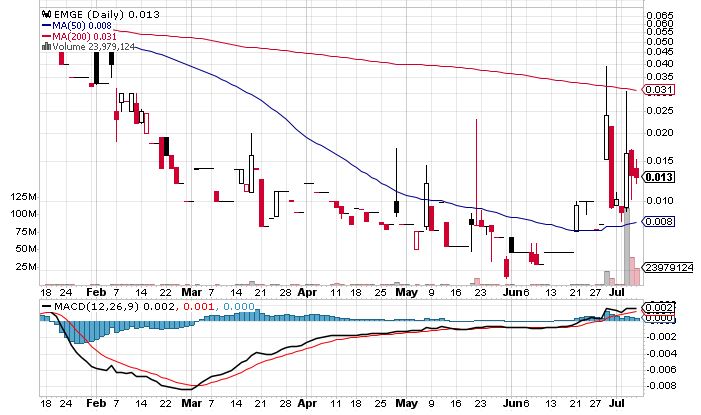 Emergent Executes Joint Venture Agreement with Nutralife Biosciences and Provides PharmaZu Corporate Update
Emergent Health Corp on July 6, 2022, announced executing a Letter of Intent for acquiring Regen Biowellness Inc, distributor of several products in plant-based as well as regenerative medicine fields.
Jim Morrison, President, and CEO of Regen will be joining the management of Emergent. A legend in the personal care industry, Morrison has engaged as President of L'Oréal. He oversaw growth averaging over 20% year-over-year. Morrison also engineered acquisitions of Matrix and Redken besides leading the firm during a time of unprecedented growth. Considered a top brand strategist, Morrison had a history of working with celebrities in the beauty space including Britney Spears, Katharine McPhee, and Kylie Jenner amongst others, and is currently the CEO of Cannagistics, Inc., and Advisor to Kerluxe, Inc.
James W. Zimbler, CEO of Emergent said that Emergent is foraying into the expansion of health as well as wellness, and biological medical offering both for pets and people. The added entities with the offering will give a large number of products.
Jim Morrison, President, and CEO of Regen Biowellness said that the new Emergent Health is positioned to be a transformational company in the wellness and family health space. Morrison added that the company has unlimited potential.
Key Quote
Jim Zimbler, CEO of Emergent, stated, "We are extremely pleased and excited to partner with Edgar Ward and Nutralife for the production and marketing of our Emergent line of products. With the help of Nutralife, we are moving forward with the re-launch of our portfolio of products."
Emergent executes Letter of Intent with Regen Biowellness, Inc.; Former L'Oréal President Jim Morrison to join Emergents Management Team
Earlier, Emergent Health Corp had announced executing a joint venture agreement with Nutralife Biosciences, Inc for co-production, co-marketing as well as distribution of a line of health-related nutraceutical products. The company, a developer as well as distributor of several skincare and nutraceuticals with over fifty different products and formulations, NutraLife products are made with the best ingredients including CBD. The products support and cater to a number of health and wellness applications for improving life. NLBS has been a manufacturer of health and wellness consumer goods for about 12 years.
The joint venture for co-marketing and co-producing Emergent products will be supporting the firm's national reach. Additionally, collaborating with Nutralife to utilize extensive and established production facilities will give significant distribution channel opportunities.
Jim Zimbler, CEO of Emergent expressed delight in partnering with Edgar Ward as well as Nutralife for the marketing and production of Emergent line of products. Zimbler added that the company is moving forward on relaunching its portfolio of products.
Edgar Ward, President, and CEO of Nutralife said that the company is pleased to work with Emergent and PharmaZu. Ward is hopeful on this being a prosperous, impactful relationship. Furthermore, he said that the company is mindful of the mission and principles each day to improve daily health as well as wellness of lives.
Traders Note
EMGE stock is trading above the 20-Day and 50-Day Moving averages of $0.0104 and $0.0082 respectively. Moreover, the stock is trading in the neutral zone with RSI stands at 54.