Headquartered in Lakewood Ranch, Florida, Major League Football (OTCMKTS:MLFB) is a publicly-traded company operating as a professional football league. The firm's mission is to give professional and personal growth opportunities to coaches, football players, trainers as well as front office personnel. The firm gives participants exposure to the NFL as well as other professional leagues for advancing their careers.
Market Action
On Friday, MLFB stock gained 2.25% to $0.0227 with 2.56 million shares, compared to its average volume of 1.77 million shares. The stock moved within a range of $0.0212 – 0.0230 after opening trade at $0.0214.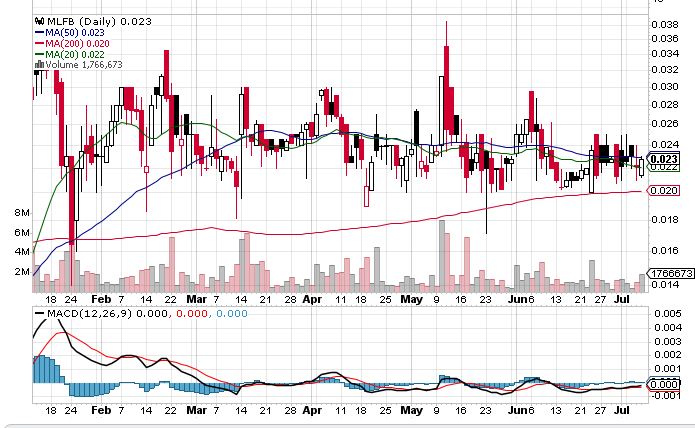 Major League Football (MLFB) Chief Operating Officer and Special Consultant Update
Major League Football Inc on June 9, 2022, announced that Richard Nichols has resigned as Chief Operating Officer. Vice President of Team Interface, Steve Videtich, will be assuming the COO duties for the time being. In more than 25 years of pro football, Steve has a novel skill set and has been a coach, player, and general manager.
Videtich has experience at both League and Team levels and understands the challenges of commencing and growing from scratch including being the GM of Utah Blaze in the Arena League Football league.
CEO Frank Murtha appreciates the services given by Rick Nichols as COO. Murtha added that the company will miss the counsel and professionalism significantly. The CEO added that the company is confident on Steve Videtich performing well in taking on new temporary operations responsibilities. MFLB is committed to helping all grow in respective positions and the move for Steve reinforces the importance of being a developmental company.
Frank further said that the company is pleased on announcing Tom Lewand, the Operations Special Consultant will be having more duties pertaining to MLFB operations. Lewand has been the former President of Detroit Lions, Inc., Ford Field as well as Subsidiaries. A dynamic and result-oriented executive with a robust track record of performance in top professional sports industries, he has experience in the leadership of one of the hottest retail brands in the country.
Frank opined that the company is excited about bringing the novel skill set and experience that Lewand will get to the table.
The company had earlier announced that tickets for regular-season home games for the MFLB Championship game as well as Ohio Force, will be on sale from July 11, 2022. Sales of tickets will be on the Hall of Fame Village Website as well as MLFB.com.
MLFB CEO Frank Murth said that the fans have been asking where the tickets can be purchased for game tickets. Frank said that Ohio Force fans can buy tickets on the website mlfb.com from July 11th at 10:00 am EST. In addition, tickets can be purchased from hofvillage.com.The games are scheduled to be played at Tom Benson Hall of Fame Stadium.
MLFB VP of Team Interface Steve Videtich also gave insights on the league's early week game scheduling concept. Videtich said that the firm wants to provide all coaches, players, and staff with the biggest platform for highlighting the talent and reaching the next level. Early scheduling enables attracting more eyeballs.
Traders Note
MLFB stock is trading above the 20-Day and 200-Day Moving averages of $0.0224 and $0.0201 respectively. Moreover, the stock is trading in the oversold zone with RSI stands at 50.