Headquartered in Corona, California. Advanced Container Technologies Inc (OTCMKTS:ACTX) is engaged in designing, branding as well as selling plastic medical grade containers. The company markets and sells specially modified insulated shipping containers, GrowPods, which has plants, herbs, and spices grown hydroponically in a controlled environment. The firm also gives private labeling as well as branding services for buyers of Medtainersas well as other related products. Additionally, it gives lighters, plastic lighter holders and humidity pack insert besides printing and shipping services. The company gives premium soils and soil alternatives, like perlite, gravel, rock wool as well as coconut coir used in hydroponic cultivation. Advanced Container Technologies also markets services and products to businesses through the phone room.
Market Action
On Monday, ACTX stock ended flat at $0.80 with 1.7K shares, compared to its average volume of 1.7K shares. The stock moved within a range of $0.7800 – 0.8000 after opening trade at $0.80.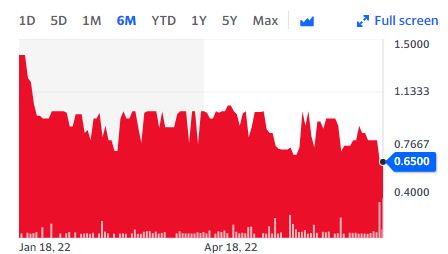 Transportable Hydroponic Farms Can Help Reduce Global Food Shortages
Advanced Container Technologies Inc on July 11, 2022, announced that GrowPods can lower global food shortages.
It is estimated that the war in Ukraine has disrupted global food supplies as both Russia and Ukraine were the major food suppliers. The conflict is thus causing pain across the developing world, leading to price shocks as well as constraining imports of basic commodities.
Secretary-General of the United Nations, António Guterres, had said that the war, along with other global crises, can result in famine and mass hunger due to its impact on food production as well as prices globally. Guterres said that millions of people face food insecurity and malnutrition. Modular hydroponic farms such as GrowPods can be placed virtually anywhere and can grow in about three acres of traditional farmland in an automated environment. Some have been configured for growing 720 heads of lettuce every week, without harmful chemicals or contamination.
GrowPods can enable local communities to grow fresh, healthy food, without the need for acres of farmland.
Doug Heldoorn, CEO of Advanced Container Technologies said that GrowPods can enable local and sustainable farming. Heldoorn added that the modular hydroponic farms can give healthy food where needed and entail minimal labor. Furthermore, he added that a GrowPod can be set up on some days, to ensure that food shortages can be lowered in some weeks, instead of years.
Key Quote
"Our modular hydroponic farms can provide healthy food where it is needed, and require minimal labor so that farming can be managed by just a few people with some basic training," Heldoorn said. "Additionally, a GrowPod can be set up in a matter of just days, so that food shortages can be reduced in just weeks, instead of months or years."
Modular Hydroponic Farms From ACTX Can Turn Anyone into a Farmer
The company had earlier announced that GrowPods can help democratize food production globally. Farmers now have access to automated facilities, advanced robots, self-driving tractors as well as pollinator drones. Technology can result in community groups, schools, entrepreneurs, and other organizations to grow their own fruits and vegetables.
The market has witnessed an explosion in the last few years and people are growing everything on transportable hydroponic farms. A news portal had confirmed that a heavily urban environment is perhaps the final place to find a farm growing equal to two acres of production. Peter Handy's backyard is a controlled environment unit having vertical pastures. Handy said that the place needs to be in the vicinity of the clients.