Publicly-traded LFTD Partners Inc (OTCMKTS:LIFD) Jacksonville, FL is the parent corporation of Lifted Made, Kenosha, manufacturing as well as selling psychedelic products. It sells hemp-derived cannabinoids under its Urb Finest Flowers brand as well as the Silly Shruum brand. The company also owns 4.99% of CBD-infused beverages as well as products maker Ablis Holding Company. Additionally, it has craft distillers BendistilleryInc, Crater Lake Spirits, and Bend Spirits, Inc located in Bend.
Market Action
On Monday, LIFD stock ended flat at $4.10 with 150 shares, compared to its average volume of 1K shares. The stock moved within a range of $4.1000 – 4.1000 after opening trade at $4.10.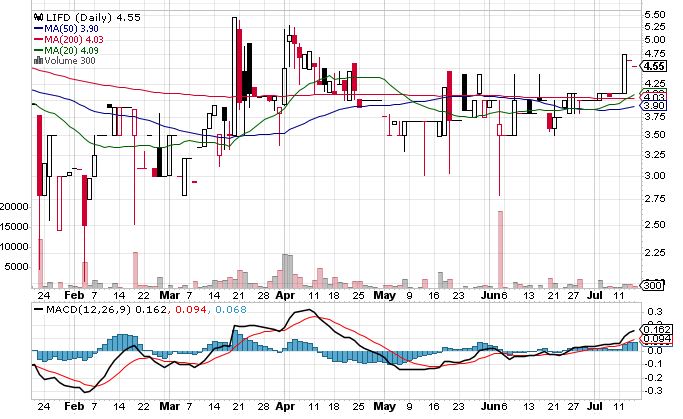 LFTD Partners Inc. Prepays An Additional $916,666 of Note Principal Using Free Cash Flow From Operations, Leaving Only $916,668 of Secured Debt
LFTD Partners Inc on July 11, 2022, announced on prepayment of an extra $916,666 of the principal of $1,833,334 note payable pertaining to buying the subsidiary Lifted Made, Kenosha, WI, harnessing the free cash flow generated by Lifted Made's operations. The prepayment, following the firm's earlier prepayment of the same amount in the month, leaves LFTD Partners Inc. with just $916,668 of secured debt.
William C. "Jake" Jacobs, LFTD Partners Inc.'s President, and CFO said that the company is continuously paying the secured debt, using only free cash flow from operations. He complimented Nick Warrenderas well as his talented team at Lifted Made.
Gerard M. Jacobs, LFTD Partners Inc.'s Chairman, and CEO said that Jake, Nick, and himself are having discussions with potential lenders as well as acquisition candidates. Jacobs added that these are tough times, both in the cannabis industry as well as macro level. The CEO opined that the company places much value on tremendous working capital, with small debt.
Key Quote
Gerard M. Jacobs, LFTD Partners Inc.'s Chairman, and CEO, said, "Nick, Jake and I are continuing to have discussions with potential lenders and acquisition candidates. However, we are living through challenging times, both on a macro level and within the cannabis industry. In this environment, we place great value on having a significant amount of working capital on hand, with only a small amount of secured debt that is rapidly diminishing."
Lifted Made Signs Sublease for Sales Offices in Chicago
The company had earlier announced that the wholly-owned subsidiary Lifted Made, Kenosha, Wisconsin, is expanding operations for the sixth time in the last two years. This will see the expansion of operations for the sixth time in the last two years, subleasing 2,600 square feet in Chicago, Illinois, to be used by members of Lifted Made's sales team.
The new sublease covers the five-month timeframe from June 1, 2022, through October 31, 2022. Representing a 9% increase, of about 32,970 square feet, in production, aggregate office, and fulfillment space, Lifted Made will be paying a base square foot charge of $1.15 per square foot per month.
Lifted Made will be also responsible for the payment of a proportionate share of real estate taxes as well as other common area maintenance costs.
Nicholas S. Warrender, LIFD's Vice Chairman, COO, and the CEO of Lifted Made said that the company's Chicago-based salespeoplewere devoting too much time commuting to the headquarters in Kenosha. Warrender added that the Chicago sales office will enable them to make sales rather than spend time on the commute. Furthermore, the firm is expecting to tap a larger talent pool as it aims to expand its sales headcount this year.