There has been no news about Twin Vee Powercats Inc (OTCMKTS:TVPC) for almost a year and hence, it is perhaps not a surprise that the stock was trading in a range on Tuesday. However, when stocks trade in a range it can often be the point from which they could breakout as well and at a time there is such a lull, it may well be the right time to take a closer look at the company. Before going to the last major news that emerged about the company, investors ought to have a better idea about the nature of the company.
Market Action
On Tuesday, TVPC stock ended flat at $0.0890 with 20K shares, compared to its average volume of 10k shares. The stock moved within a range of $0.0890 – 0.0890 after opening trade at $0.0909.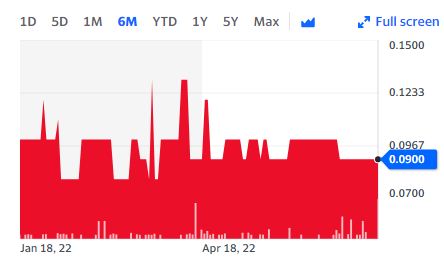 About The Company
Twin Vee Powercats had actually been established back in 1994 and at this point in time, it is headed by Joseph Visconti, who is the Chief Executive Officer. It should also be noted that Twin Vee Powecats is also the biggest shareholder in the company Twin Vee PoweCats Inc.
Now that you have got a fairly good idea about the company in general, it may be a good move to take a look at the last bit of major news about Twin Vee Powecats.
Twin Vee Powercats, Inc. Issues Statement
The company had come into the news cycle back on August 25 last year after it released a key statement. The company noted that it had received a large number of questions with regards to the exact relationship between Twin Vee Powecats and Twin Vee PoweCats and in that statement, it sought to provide a detailed explanation about the same. It was announced that from 2016 through to July 20 last year, Twin Vee Powecats was the parent company of Twin Vee PoweCats, which functioned as a fully owned subsidiary united.
However, on July 20, 2021, Twin Vee PoweCats turned into a publicly-traded company in its own right and started trading under the ticker symbol VEEE on NASDAQ. However, despite the fact that it had become a publicly-traded company on its own, Twin Vee Powecats remained the biggest shareholder and at the time, it owned as many as 4000000 shares of the Twin Vee PoweCats common stock. The same had been revealed in the Twin Vee Powecats balance sheet. That being said, it is also necessary to perhaps point out that Twin Vee Powecats does not have many business operations of its own and the shareholding of the company in Twin Vee PoweCats remains its main asset.
However, the most important thing to keep in mind from the update provided by the company last year is the fact that from the date of the Twin Vee PoweCats, there is a lock-up period of one year for the shares that are held by Twin Vee Powecats. The one-year lock-up period is going to end on July 20, 2022, and it is likely that the Twin Vee Powecats stock may come into focus among investors on that day or in the days leading up to that date. It may be a good move to keep an eye on it at this point.
Traders Note
TVPC stock is trading above the 20-Day and 200-Day Moving averages of $0.0932 and $0.0949 respectively. Moreover, the stock is trading in the oversold zone with RSI stands at 43.