The Premier development league for mixed martial arts, B2Digital Inc (OTCMKTS:BTDG), is engaged in scheduling, organizing, and producing live MMA events. The company also markets the events as well as generates both live audiences as well as PPV ticket sales besides creatively marketing the archived content. The firm is aiming to generate additional revenues from endorsement deals with global brands. The company's Fighting Series is licensed in 20 US states for operating LIVE MMA Fights. Most of the events sell at the gate and the firm now also operates at a pace of over 40 events per year.
Market Action
On Wednesday, BTDG stock ended flat at $0.0005 with 7.36 million shares, compared to its average volume of 13.99 million shares. The stock moved within a range of $0.0005 – 0.0006 after opening trade at $0.0006.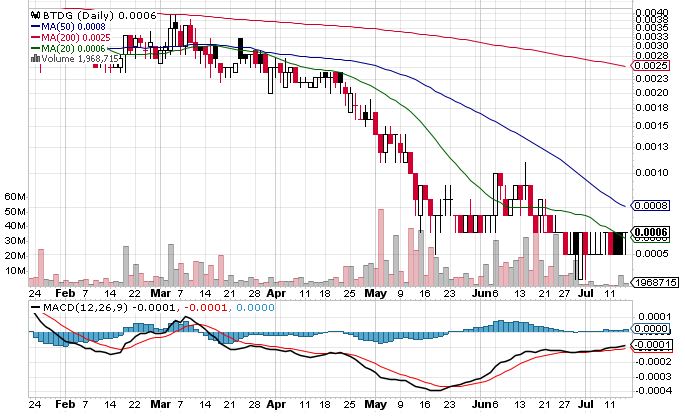 B2 Digital Sets Company Records, Entertains Crowds at Action Packed B2FS 167, 168, and 169
B2Digital Incorporated on July 13, 2022, updated shareholders as the firm are continuing to harness tremendous momentum. The company has been putting forth some of the best live MMA events in the last few weeks at B2FS 167, B2FS 168, and B2FS 169.
B2FS 167 and B2FS 168 – on June 24 and June 25, happened at Kentucky International Convention Center in Louisville, Kentucky. These were the largest and most successful single weekends. B2 Fighting Series official Matchmaker, Brandon 'Hardrock' Higdon said that the June weekend in Louisville KY was the biggest in its history. Brandon added that the firm witnessed 26 fights over 2 nights and was a complete sell-out.
The crowd saw an entertaining display of drama and skill and new stars were born. He added that UFC vet Dom Steele nail down the second straight victory in the search to get back to the Big Show. There was also Perry Stargel notching the 5th consecutive pro victory.
After two weeks, the B2 Fighting Series rolled into Sioux City, Iowa at the Sioux City Downtown Convention Center. It had three professional MMA bouts, 3 grappling matchups, and 4 amateur MMA bouts.Higdon further stated that B2FS 169 demonstrated fantastic performances from some up-and-coming stars such as Damen Moyer, who has been undefeated. He also said that two of the top 145-pound amateurs also fought in a title fight.
Jeremy Henry went closer to his career as a professional. Bellator vet Jeff Nielsen edged a close decision win against Jackson Wink Academy's Tre'von Jackson. On the other hand, Shaine Moffitt snatched the 7th pro victory with 3rd round stoppage over Joshua Oxendine.
Greg P. Bell, Chairman, and CEO of B2 Digital said that the past two event weekends demonstrated a record-breaking stretch continuing the brand momentum as well as the leadership position in the MMA development league space. Bell added that Kentucky was a breakthrough success and saw high-profile battles leaving the crowd in awe. B2FS 169 first fight of the night ended in an unforgettable highlight reel knockout. Viewers can catch the event premiers on FITE on Wednesday. As per the CEO, the night just got better after that.
Key Quote
B2 Fighting Series official Matchmaker, Brandon 'Hardrock' Higdon, stated, "Our June weekend in Louisville KY was the biggest weekend of fights in B2 history. We saw 26 fights over 2 nights, with a sold out crowd each night. And they witnessed an extremely entertaining display of skill and drama in the cage. New champs were crowned, and new stars were born. We got to see UFC vet Dom Steele nail down his second straight victory in his quest to get back to the Big Show. We also saw Perry Stargel notch his 5th consecutive pro victory – if that guy wasn't on the radar for the Big Show, he certainly is now. If you had any doubt about whether or not the B2 Fighting Series is the premier development league in MMA, our weekend in Louisville should be all the proof you ever need!"
Traders Note
BTDG stock is trading above the 20-Day and 200-Day Moving averages of $0.0006 and $0.0008 respectively. Moreover, the stock is trading is the oversold zone with RSI stands at 41.