Enterprise Diversified Inc. (OTCMKTS:SYTE)  and its subsidiaries are involved in multiple diverse business activities in industries such as asset management, real estate, internet access, and home services.  Its goal is to centralize capital allocation decisions at the corporate level and decentralize operational decisions among subsidiary managers.
Market Action
On Thursday, SYTE stock ended flat at $5.50 with 200 shares, compared to its average volume of 401 shares. The stock moved within a range of $5.50 – 5.50 after opening trade at $5.55.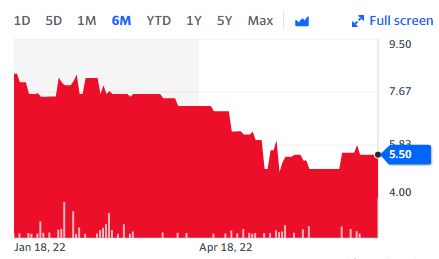 Enterprise Diversified, Inc. Announces Filing of Definitive Proxy Statement and Special Shareholder Meeting to Vote on Proposed Business Combination
Enterprise Diversified, Inc. (ENDI) has announced on July 14, 2022, about the effectiveness of the Registration Statement on Form S-4, along with the proxy statement/prospectus included therein in connection with the company's previously announced business combination with CrossingBridge Advisors, LLC.
Consummation of business combination is subject to some closing conditions, which includes shareholder approval. A special meeting of its stockholders to approve the proposed business combination is scheduled to be held on August 9, 2022 at 9 AM astern Daylight Time, unless postponed or adjourned to a later date or time.
As of now, the company should start mailing definitive proxy materials related to the Special Meeting of stockholders commencing on or around July 18, 2022, which will be sent to stockholders of record as of July 6, 2022, the record date for the special meeting. The meeting is to be held virtually, with registration instructions provided in the proxy statement included in the Registration Statement.
If the merger between ENDI and CrossingBridge Advisors, LLC, is successful, they will become wholly owned subsidiaries of a newly formed holding company, ENDI Corp., a Delaware corporation, at closing.
The merger agreement calls for the outstanding securities of each of Enterprise Diversified and CrossingBridge to be exchanged for common stock of ENDI Corp. After consummation of the merger, the following comes into effect:
ENDI stockholders will own 2,647,383 of the Class A Common Stock of ENDI Corp. that represents approximately 52.5% of the outstanding Class A Common Stock of ENDI Corp.
CrossingBridge's parent company, Cohanzick Management, LLC, will receive in the merger 2,400,000 shares of Class A Common Stock, 1,800,000 shares of Class B Common Stock and warrants to purchase 2,050,000 shares of Class A Common Stock at $8.00 per share which expire in five years.
Post-closing, Cohanzick or its designee will purchase an extra 100,000 shares of Class A Common Stock and Cohanzick, its designee, and certain employees, officers, and directors of the ENDI will have the right to purchase up to a further 305,000 shares of Class A Common Stock. At closing, the Class A Common Stock and Class B Common Stock issued to Cohanzick will result in Cohanzick having approximately 61.3% voting interest in Newco. David Sherman is the controlling member of Cohanzick and David Sherman and his affiliated entities have an 87% economic interest in Cohanzick.
Traders Note
SYTE stock is trading below the 20-Day and 50-Day Moving averages of $5.74 and $6.88 respectively. Moreover, the stock is trading is the neutral zone with RSI stands at 41.