Incorporated in 2006, and headquartered in Ann Arbor, Michigan, Kraig Biocraft Laboratories, Inc. is involved in developing protein-based fibers using recombinant DNA technology. It is used for commercial applications in the technical textile and specialty fiber industries in the United States. Products are used in military and police applications, industrial applications, medical textiles, geotextiles, defense and military textiles, and so on.
Market Action
On Monday, KBLB stock ended up by 11.68% to $0.0660 with 1.26 million shares, compared to its average volume of 1.4 million shares. The stock moved within a range of $0.0605 – 0.0720 after opening trade at $0.0620.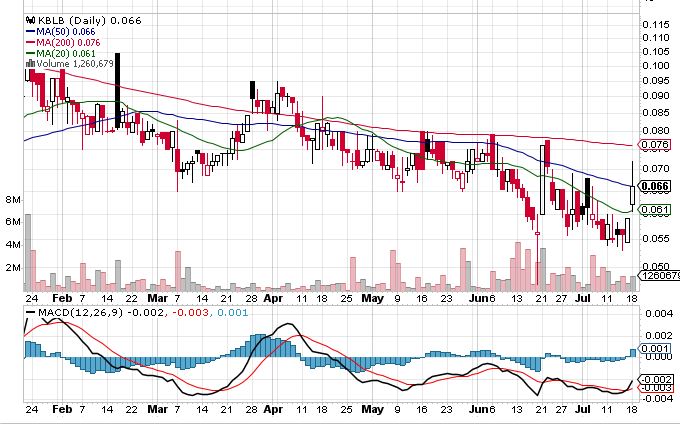 Kraig Biocraft Laboratories Enters Next Phase of Business Plan, Signs Deal with Contract Manufacturer to Produce Metric Tons of Recombinant Spider Silk
Kraig Biocraft Laboratories, Inc. has announced signing its first 3rd party production contract, on July 18, 2022. It is for large-scale manufacturing of the company's recombinant spider silk. Operations with this contractor are set to begin right away, for producing hundreds of kilograms of spider silk per month.
Pilot testing with this contractor during the first two quarters of 2022 demonstrated the capacity and expertise of this manufacturer to operate at a large scale and with incredible quality. The goal is to achieve production levels reaching multiple metric tons of spider silk per month as early as the first quarter of 2023. The company's specialized eggs are in the contractor's possession, and a 90-day ramp-up for first deliveries is expected, as per the contract.
According to the contract terms, Kraig Labs is set to become the majority owner of the silk producer. It will have total access to the manufacturer's financial records, along with an onsite presence to ensure the proper handling and security of the company's propriety spider silk technology.
COO of Kraig Biocraft Laboratories, Jon Rice stated that their business model was specifically designed to leverage the existing silk production infrastructure. Thanks to this agreement, they can quickly expand access to that production network and move on to the next critical stage in their business plan.
The company will soon be ready to deliver metric tons of eco-responsible and cost-effective spider silk to the consumer markets. It even plans to release the first in a series of behind-the-scenes videos looking into its operations in Vietnam and the commercialization of its spider silk materials, in the next few days.
On that note, the company had announced about the production of new lines of larger hybrid Dragon Silk silkworms for its production operations in Vietnam, some weeks back. These new breeds of silkworms were explicitly created for large-scale production. With a larger cocoon and longer silk filament, these optimized Dragon Silk breeds reduce production costs and increase throughput.
The new breeds were created via hybridization, combining the best properties of Dragon Silk with the best practices in silkworm breeding to improve the size and robustness of the silkworm strain. The process of creating these production hybrid silkworms delivers between 30-100% larger silk cocoons than non-hybridized silkworms. Transitioning to these new larger breeds of Dragon Silk to production is due to the success with 3rd party contract production and the increasing demand for more Dragon Silk.
Key Quote
"Our business model was designed to leverage the existing silk production infrastructure. The signing of this agreement rapidly expands our access into that production network and brings us to the next critical stage in our business plan," said Company COO Jon Rice. "Working with this contract manufacturer, we will soon be ready to deliver metric tons of eco-responsible and cost-effective spider silk to the consumer markets."
Traders Note
KBLB stock is trading below the 20-Day and 50-Day Moving averages of $0.0607 and $0.0661 respectively. Moreover, the stock is trading in the neutral zone with RSI stands at 55.