Multi-state cannabis operator, MariMed Inc (OTCMKTS:MRMD), is focused on ameliorating lives through high-quality products, actions, and values. The firm is engaged in developing, owning as well as managing the seed sale state-licensed cannabis facilities, which are considered excellent in cannabis cultivation, horticultural principles as well as cannabis-infused products besides dispensary operations. The company has a veteran management team enabling consistent growth. The firm's technicians had created the proprietary formulations embedded in the top-selling and award-winning products and brands, including Nature's Heritage, Betty's Eddies, Kalm Fusion, Bubby's Baked, and Vibrations.
Market Action
On Monday, MRMD stock gained 4.29% to $0.73 with 905K shares, compared to its average volume of 421K shares. The stock moved within a range of $0.6500 – 0.7300 after opening trade at $0.7050.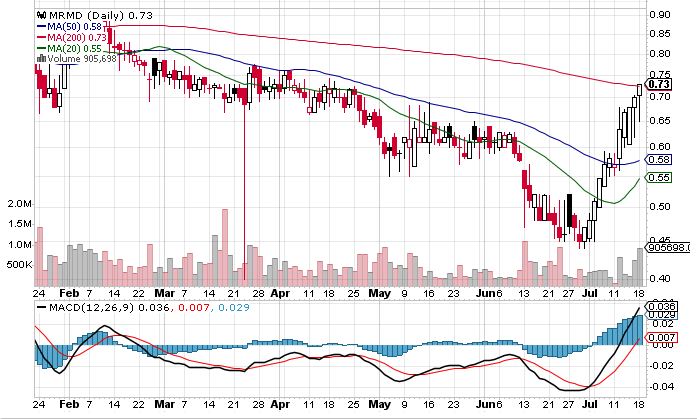 MariMed Announces Kitchen Expansion in Maryland
MariMed Inc on July 18 announced that the wholly owned subsidiary, Kind Therapeutics USA has approval from Maryland Medical Cannabis Commission for operating the state-of-the-art expanded production kitchen at the Maryland cultivation and production facility.
The kitchen will augment Kind's production capabilities as well as the capacity to meet the demand for its products throughout the state. Currently, the firm's products are available in almost all of Maryland's 100 dispensaries. The company is expecting the demand for its branded products to augment if local voters approve adult-use cannabis sales in November.
The expansion of the kitchen enables Kind to manufacture Marie's award-winning infused products. These include Betty's Eddies full-spectrum fruit chews, a top-selling edible in Maryland as well as Bubby's Baked soft and chewy baked goods. The company designed and will operate an expanded kitchen with the intent of getting Good Manufacturing Practices certification in the future. GMP certification ensures employees and consumers are assured that the kitchen maintains high standards for food production, health as well as safety. Post-certification, the facility would be one of the only GMP-certified cannabis production kitchens in Maryland.
The expanded kitchen is amongst several initiatives of MariMed for seizing market share in the high-growth state. As per MCCC, Maryland has generated over $500 million in medical cannabis sales in 2021. This includes over 139,000 registered medical cannabis patients and about two hundred new applications daily.
MariMed Announces Second Quarter 2022 Earnings Date
MariMed on July 11, 2022, announced that it would be reporting second-quarter 2022 financial results on August 8, 2022. The Management will be hosting a conference on next day at 8:00 a.m. EST for discussing the financial results. Furthermore, a webcast would be available and can be accessed through the company's investor relations site at https://ir.marimedinc.com. For listening to the live call, users are requested to visit the website at least 15 minutes before the call to register, download as well as install any necessary audio software. Furthermore, a playback of the call would be archived on the company's website for at least a month.
Traders Note
MRMD stock is trading above the 20-Day and 50-Day Moving averages of $0.59 and $0.58 respectively. Moreover, the stock is trading in the oversold zone with RSI stands at 75.