Clinical-stage biotechnology company, Provectus Biopharmaceuticals Inc (OTCMKTS:PVCT), is developing immunotherapy medicines for various disease areas based on small molecules called halogenated xanthenes. The firm's lead molecule is RBS while the second HX molecule has been synthesized.
Market Action
On Tuesday, PVCT  stock ended down by 1.64% to $0.0600 with 282K shares, compared to its average volume of 170K shares. The stock moved within a range of $0.0566 – 0.0620 after opening trade at $0.0600.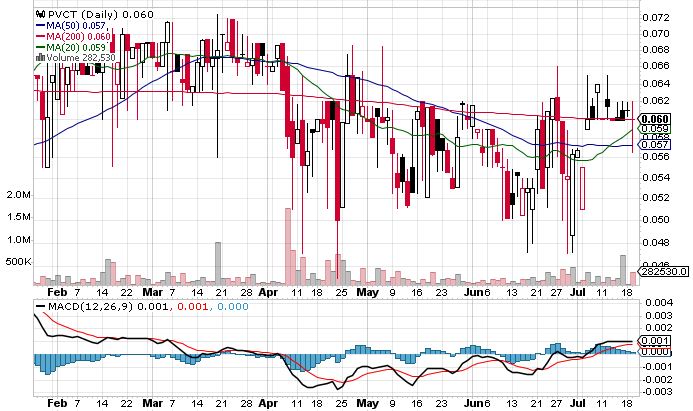 Provectus Biopharmaceuticals Establishes Research Collaboration
Provectus on July 19, 2022, announced that the firm has commenced a new sponsored research program with Associate Professor of Pathology and Lab Medicine, School of Life Sciences at the University of Nevada, Las Vegas, Kelly Tseng, PhD. The program will enable characterize effects of Provectus' pharmaceutical-grade rose bengal sodium for tissue regeneration and repair. RBS is the key member of small molecules called halogenated xanthenes, owned entirely by Provectus.
Tseng Lab at UNLV will be evaluating the impact of RBS on both tissue repair and animal development using an African clawed frog. This will assess key biological processes including wound healing, embryo development, and tissue regeneration.
Dr. Tseng, an expert in tissue regeneration as well as a leader in regenerative biology, has a research group at UNLV seeking to elucidate mechanisms of complex tissue regeneration in vertebrates. She has identified some vital factors controlling eye regeneration and control of the limb. She has also established a fresh model for studying embryonic eye stem cells.
Having graduated from the Massachusetts Institute of Technology, Tseng has a Bachelor of Science in Biology also a PhD from Harvard University. Furthermore, Tseng had been a Howard Hughes Medical Institute research fellow at Boston Children's Hospital. Her works have been highlighted in media outlets as well as in books.
Provectus Biopharmaceuticals Presents Data from PV-10® Treatment of Metastatic Uveal Melanoma Patients in Two Oral Presentations at 2022 International Society of Ocular Oncology (ISOO) Congress
Provectus on June 30, 2022, announced updated data from its initial expansion cohort of patients. They had uveal melanoma metastatic to the liver in its cancers-of-the-liver Phase 1 trial. These were part of two oral presentations at the 20th Congress of the International Society of Ocular Oncology held June 17-21, 2022, in Leiden, The Netherlands.
The first presentation was made by Research Nurse, Krysta McVay from the Department of Melanoma Medical Oncology, Division of Cancer Medicine at MD Anderson Cancer Center. It was entitled "A phase 1 study of percutaneous autolytic rose bengal disodium for metastatic uveal melanoma patients with hepatic metastases." A copy of the presentation is also available on the firm's website.
Associate Professor, Department of Melanoma Medical Oncology, Division of Cancer Medicine, and Director of the Uveal Melanoma Program at MDACC, Sapna Patel made the second presentation titled "Metabolic complete responses in metastatic uveal melanoma patients treated with an image-guided injection of PV-10." Her presentation is also available on the firm's website.
The continuing single-center mUM study has been led by Dr. Patel since its inception. Response assessments are done within a month and then every quarter. Patients with injectable, additional, and visceral hepatic mUM disease may get extra cycles of PV-10. Eligible patients can also get standard of care immune checkpoint blockade.
Traders Note
PVCT stock is trading above the 20-Day and 50-Day Moving averages of $0.0590 and $0.0573 respectively. Moreover, the stock is trading in the neutral zone with RSI stands at 52.