SunHydrogen (OTCMKTS:HYSR) is developing a low-cost and breakthrough technology for making renewable hydrogen using water, including wastewater and seawater as well as sunlight. Pure water is the sole byproduct of hydrogen fuel, unlike hydrocarbon fuels like oil, coal, and natural gas releasing carbon dioxide and other contaminants. Optimizing the science of water electrolysis at the nano-level, the firm's low-cost nanoparticles mimic photosynthesis by using sunlight to separate hydrogen from water. Harnessing the low-cost method for producing renewable hydrogen, the company aims to enable the world of distributed hydrogen production for hydrogen fuel cell vehicles as well as renewable electricity.
Market Action
On Tuesday, HYSR stock gained 12.06% to $0.0288 with 19.35 million shares, compared to its average volume of 4.93 million shares. The stock moved within a range of $0.0251 – 0.0289 after opening trade at $0.0258.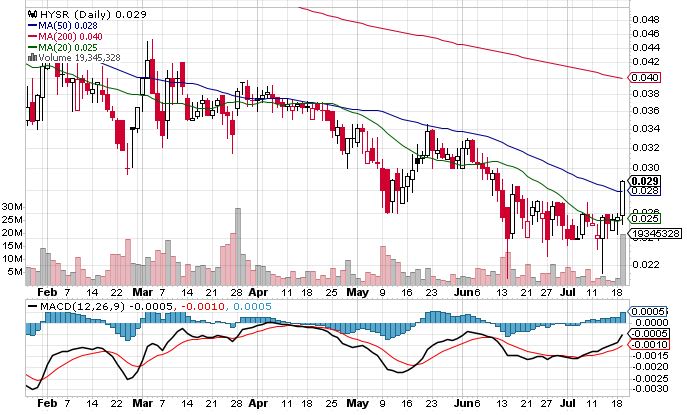 SunHydrogen Well-Capitalized for Nanoparticle-Based Green Hydrogen Technology's Continued Development Toward Commercialization
SunHydrogen Inc on July 19, 2022, shared an update highlighting the firm's financial position post completion of the fiscal year on June 30. The company has $52 million in cash and cash equivalents on the balance sheet, which instills confidence in the scientific and executive teams. SunHydrogen is moving ahead on the commercialization of nanoparticle-based green hydrogen technology. The company is at a crucial developmental juncture with the goal of producing a prototype set by the end of the year.
SunHydrogen's CEO Tim Young said that being well-capitalized will enable the firm to be confident in its technology reaching commercial viability. Young also said that the company will commence exploring strategic investments in the hydrogen space.
Young further stated that the company is actively pursuing opportunities both for acquisition and investment in complementary hydrogen technologies. Furthermore, the company is fortunate on having resources to support its own technology as well as maximize its impact in the fast-growing industry.
Led by Chief Operating Officer Woosuk Kim, the firm's investment strategy is being seen by a person who had served as Senior Vice President and Head of the M&A Group at Seoul-based SK Innovation. He had also executed more than $4 billion in mergers, acquisitions as well as joint ventures throughout his career. The company's annual report will be available in September 2022.
SunHydrogen Shares Q2 Update on Progress Toward 2022 Milestones for Commercialization of its Nanoparticle-Based Green Hydrogen Technology
SunHydrogen Inc on June 28, 2022, provided updates for quarter two on its progress toward multiple planned 2022 milestones. In March, the firm shared an update on quarter one highlighting developmental milestones needed for a production-quality prototype of its nanoparticle-based green hydrogen technology by end of quarter four in 2022.
The targets include successful fabrication of semiconductor units, integration of membranes, integration of catalysts at production-quality prototype scales as well as successful testing of production-quality prototype units. The company is glad on sharing that it is making progress on demonstrating a production-quality prototype.
Chief Scientific Officer Dr. Syed Mubeen said that the biggest achievement during the quarter was the successful fabrication of one of the two proprietary semiconductor units at a production-quality prototype scale. Mubeen added that the firm has tested capacity for hydrogen production using water and sunlight-containing organics.
Traders Note
HYSR stock is trading above the 20-Day and 50-Day Moving averages of $0.0261 and $0.0279 respectively. Moreover, the stock is trading in the oversold zone with RSI stands at 58.