GainClients (OTCMKTS:GCLT)products, the Remote Deposit Capture Tool, the GCard as well as Daily Opportunity Service comprise custom formatted data as well as marketing services created for the real estate industry. These include brokers, real estate agents, brokerages, insurance firms, and individual real estate.
Market Action
On Wednesday, GCLT stock gained 35.51% to $0.0145 with 3.63 million shares, compared to its average volume of 3.36 million shares. The stock moved within a range of $0.0110 – 0.0172 after opening trade at $0.0140.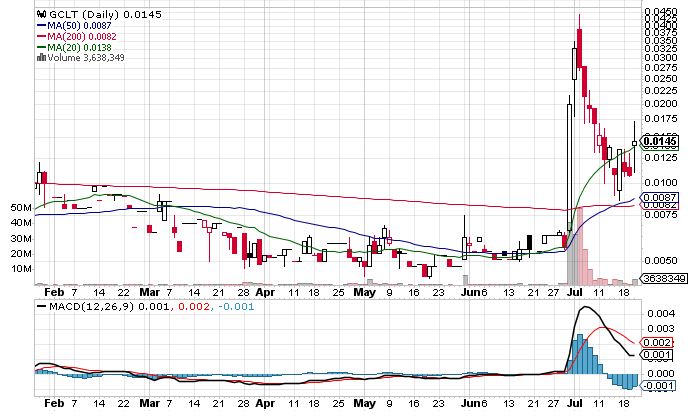 Gainclients, Inc. Announces Back-to-Back Strong Quarterly Revenue Numbers
GainClients Inc on July 20, 2022, announced posting exponentially higher quarterly revenues for the second quarter in succession. Ed Laine, the Company's CEO said that the Earnest Money Capture Solution has impressed the clients, resulting in the addition of more branches every week.
The company has been facilitating Title and Escrow Companies collect earnest money deposits digitally since covid. The "Contactless Earnest Money Capture" was a perfect fit during the time of "Social Distancing. Any real estate transaction is begun with an Agreement with an immediate deposit, made by the property buyer. The GainClients' RDC Tool enables the deposit to happen digitally, resulting in savings of thousands of dollars in courier fees.
The company's revenue model works around three principal sources including a monthly platform, set-up fees, and check fees. While the check fees and platform fees are recurring, the set-up fees are bigger and one-time.
Ed Laine, GainClients' CEO said that the increase in client base is also resulting in higher revenues. Laine added that the firm has spanned more than two thousand checks for $9 million in earnest money deposits. As per Laine, this is 893% growth, year over year. The CEO also informed that the company was featured on the cover of 'The Title Report'.
GainClients has been a public company since 2001. It became pink Current in 2021, enabling it to focus on delivering solutions to market participants in the Real Estate Sector.
The firm's Remote Deposit Capture Service enables the capability to take a picture of earnest money checks and deposit them into a bank from a remote location. This option is seen as secure by the banking industry against fraud and saves considerable time and money.
GainClients, Inc. Announces Expansion of Capital Title of Texas Relationship
GainClients Inc on July 5, 2022, announced being requisitioned for expanding the Earnest Money Capture Solution to Capital Title of Texas' Dallas Region. The firm partnered with Capital Title of Texas since year onboarding thirty-five branches.
The rollout in locations led to Capital Title's decision to harness the GainClients platform in Dallas. Capital Title of Texas had asked for eighteen additional sites, making the total branch count to fifty-three.
Kristy Santelia, President of Escrow and Operations – Houston and Golden Triangle Divisions for Capital Title, a Division of The Shaddock Companies said that the firm experienced much success in the implementation of GainClients Remote Deposit Capture Service in the San Antonio, Houston, and Austin markets.
GainClients' CEO, Ed Laine said that the firm has been fortunate on partnering with great companies. Laine added that Kristy and the team have done a brilliant job of rolling out solutions and that they are the best partners in the Texas Market.
Traders Note
GCLT stock is trading above the 20-Day and 50-Day Moving averages of $0.0129 and $0.0087 respectively. Moreover, the stock is trading in the oversold zone with RSI stands at 53.