Pacific West Bank (OTCMKTS:PWBO) is a commercial bank with offices in West Linn, Downtown Portland, and Lake Oswego Oregon. The Bank gives customized banking solutions to businesses and nonprofits besides financial and volunteer support to diverse civic, community, and charitable organizations.
Market Action
On Thursday, PWBO stock ended flat at $13 with 1K shares, compared to its average volume of 609 shares. The stock moved within a range of $13.00 – 13.00 after opening trade at $13.15.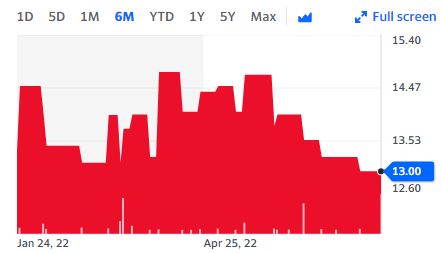 Pacific West Bank Announces New Board Member Erin Hubert
Pacific West Bank on July 7, 2022, announced Erin Hubert as the new member of the Board of Directors of Pacific West Bank. This is in line with the institution's mission of servicing Portland's business community by giving premier banking services led by local leaders.
Ed Kawasaki, Pacific West Bank's Chairman of the Board said that it is an honor to have Erin joining the Board of Directors with the vast experience in leadership roles. Kawasaki added that Erin brings a wealth of knowledge and business acumen to Portland city.
Currently, Erin Hubert is the Chief of the Business Services Division for Multnomah County Sheriff's Office. Erin has a good network in the community as well. Earlier, she has been the CEO of the boys and girls club of Portland, whereas she was also the COO of Portland Trailblazers.
Furthermore, she has been on several boards, including Oregon Partnership, Oregon Health & Sciences University, Citizens Crime Commission, Boys, and Girls Club of Portland, as well as Portland State University Advisory Board. Hubert has a B.S. in business administration from Portland State University.
Erin Hubert, Pacific West Bank's newest Board Member expressed excitement about being part of the bank and supporting the mission of serving the business community. Hubert added that the Bank's growth in the last few years has been amazing, and it is amazing to be a part of its growth trajectory.
Pacific West Bank Announces New Board Member Terri Sorensen
Pacific West Bank on June 29, 2022 announced Terri Sorensen as the new member of the Board of Directors of Pacific West Bank. This is part of its strategy to grow in the Portland market.
Ed Kawasaki Chairman of the Board said that Terri's leadership in Portland non-profit community makes him ideal for the Board. Kawasaki added that Pacific West Bank's focus on serving non-profits by giving customized banking services as well as experienced bankers can help non-profits thrive. Furthermore, Kawasaki opined that Terri will be joining the Board and supporting the bank's mission of serving the vital sector.
CEO of Friends of the Children, a national non-profit headquartered in Portland, Terri Sorensen was selected as one of the first leaders for Business Journal's Leadership Trust. Sorensen was also selected for Results for America's Moneyball for Government Non-profit All-Star Team as well as Leap of Reason Ambassadors Community.
She has served on various boards, including Oregon Mentors and Social Venture Partners. In 2012, she got the Orchid Award for 25 Most Influential Women in Business by the Portland Business Journal. Sorensen has a B.S. in accountancy from the School of Business and Public Administration at the University of Missouri—Columbia.
Terri Sorensen said that the bank's aim is to be the bank of choice for the community. Sorensen added that there is a need to provide resources for non-profits in Portland. Sorensen further said that it is a privilege to be part of the Board of Directors and contribute to the growth.
Traders Note
PWBO stock is trading below the 20-Day and 50-Day Moving averages of $13.81 and $13.89 respectively. Moreover, the stock is trading in the neutral zone with RSI stands at 29.