Nurosene Health Inc (OTCMKTS:MNNDF) is an AI health tech organization that has developed an ecosystem of game-changing products that directly support both acute and non-acute brain-related conditions. NetraMark, a wholly owned subsidiary of Nurosene Health Inc., is providing proprietary next-generation AI solutions for pharmaceutical and biotechnology companies across the spectrum of diseases.
Market Action
On Friday, MNNDF stock ended flat at $0.2915 with 139 shares, compared to its average volume of 791 shares. The stock moved within a range of $0.2915 – 0.2915 after opening trade at $0.2915.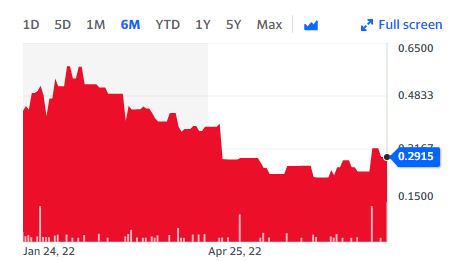 Nurosene Appoints Industry Veteran Dr. Luca Pani As Chief Innovation And Regulatory Officer
Nurosene Health Inc. has announced the appointment of Dr. Luca Pani as Chief Innovation and Regulatory Officer. Dr. Pani is an Academic both at the University of Miami in the US and in Modena, Italy and the former Director-General of the Italian Medicines Agency. He was responsible for managing a multi-billion-dollar budget for drug expenditures and negotiations on behalf of the Italian National Health System.
Dr. Pani's achievements don't end there! He has served as a member of the Board of Directors for the Committee for Human Medicines (CHMP) and the Scientific Advice Working Party (SAWP) for the European Medicines Agency (EMA) in London (2010-2017). He is also the coordinator of FACILITATE – FrAmework for ClinIcaL triaL particIpants' daTA reutilization for a fully Transparent and Ethical ecosystem.
Dr. Pani has written more than 200 peer-reviewed scientific publications. His expertise is in basic and clinical pharmacology and regulatory science with particular emphasis on health technology assessments linked with large web-based clinical datasets to guide novel negotiation strategies for the reimbursement of precision medicines.
Being the VP for Regulatory Strategy and Market Access Innovation at VeraSci, he got excellent support for scientific strategic planning on the FDA Qualification Program for the Pathway eClinical platform. It propelled the company for a highly successful $330M USD exit to WCG Clinical, a leader in the pharmaceutical services sector, where Dr. Pani continues to serve in the same role.
Nurosene Announces Appointment Of New CFO
On July 19th, the company also announced the appointment of financial executive Swapan Kakumanu as Chief Financial Officer. He brings almost three decades of experience in operations and senior finance, to the table. He has held positions at senior executive management levels, both in public and private companies in high-growth technology, blockchain, manufacturing, trading and oil field services industries.
He has even acted as President, Chief Executive Officer and Chief Financial Officer where he has played a crucial role in raising over $200 million through various financing vehicles, including debt, convertible debt, equity and other non-dilutive instruments both in the private and public markets. Mr. Kakumanu brings extensive experience in public company reporting, investor relations, mergers and acquisitions, internal controls and general overall financial and operational management.
George Achilleos, CEO & President of Nurosene, welcomes Dr. Luca Pani and Mr. Swapan Kakumanu on board. Dr. Pani will give access to a global network of leaders in the Pharmaceutical and Biotech fields, while Mr. Kakumanu will guide them towards building a top-notch management team.