RJD Green (OTCMKTS:RJDG) is operating as a holding firm focusing on managing and acquiring assets. The company operates in three divisions: RJD Green Healthcare Services Division, owning IOSoft Inc, a company providing discrete payment technologies and software that can be integrated into healthcare provider networks; Earthlinc Environmental Services Division, providing green environmental services and technologies and Silex Holdings Division, focusing on specialty construction and industrial services. Silex manufactures and installs granite as well as other products related to the commercial contractor, residential builder, and remodeling contractor.
Market Action
On Monday, RJDG stock gained 8.62% to $0.0063 with 3.77 million shares, compared to its average volume of 1.79 million shares. The stock moved within a range of $0.0060 – 0.0079 after opening trade at $0.0064.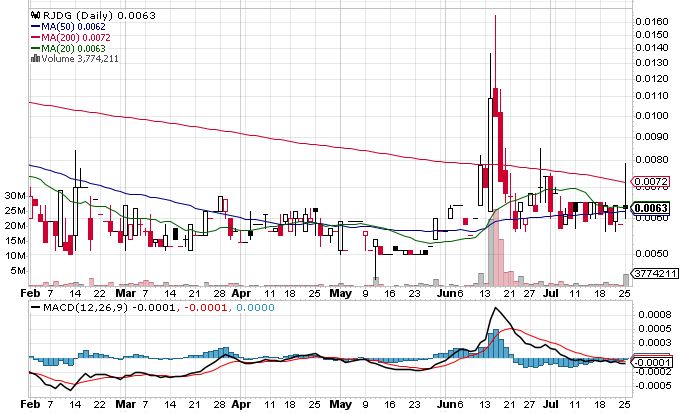 RJD Green Inc. Enters an Acquisition Memorandum of Understanding for the Healthcare Division
RJD Green Inc on July 25, 2022, announced entering an initial Memorandum of Understanding with medical billing firm, which will complement the IOSoft accelerated medical payment systems. Formed in 2010, the acquisition target is in the Midwest United States. Though Medical billing is the primary revenue for the firm, it also gives consulting services in medical marketing and IT solutions. With an established client base, the firm provides excellent growth potential. A synergistic fit with the RJD subsidiary, IOSoft's efforts will help in Unified Payment Systems and claims adjudication software platforms.
CEO Ron Brewer said that the company is pleased on reaching the initial stage of establishing due diligence and acquisition teams, which gives revenue for both companies' consulting and software services. Brewer added that the MOU will enable both parties to become more familiar and work towards an apt acquisition structure, meeting the capital investors' guidelines. RJD Green is continuing outreach on acquisitions for creating a mutually beneficial acquisition structure within the current economic environment.
RJD Green, Inc. (RJDG) Timely Files Q3 Quarterly Report on OTCMarkets; Shows Revenue from Operations of $3,799,568 as of May 31, 2022
RJD Green Inc on June 29, 2022, announced on timely filing of the quarterly report for the third quarter ending May 31, 2022.
Ron Brewer, CEO of RJD Green said that the filing demonstrates on the company generating significant year-over-year growth in revenues of 23.2% for quarter three to date, $3,799,568. He added that the company has also generated a Net Operating Profit of $544,351, a 51% surge from the previous year's quarter three years to date. It has managed to have cash and cash equivalents of $639,057 as of May 31, 2022.
The CEO opined that the firm is focusing on finding mechanisms for monetizing assets and increasing shareholder value. Even though it is engaged in cautious acquisition efforts currently, it is looking forward to what can be achieved in the upcoming months. Furthermore, the firm's revenue projections for the Fiscal Year ending August 31, 2022, are $5,100,000 with an expected Net Operating Profit of $719,000.
RJD Green's revenues have augmented annually for the last five years with a 2.6% increase. Its Net Operating Profits are expected to increase by 3.8% from 2021. The company also confirmed that the backlog for Silex Holdings is more than $1,400,000 as of May 31, 2022. IOSoft Inc. has diversified its software platforms to reach more markets.
Greenlink CEO, Jake George said that the firm is not inspired by packaging or logos but is looking at creating partnerships with creators who can build a community of engaged customers. George added that Kim Flores represents a community of consumers in the 'bro culture' of cannabis products.
Traders Note
RJDG stock is trading above the 20-Day and 50-Day Moving averages of $0.0063 and $0.0062 respectively. Moreover, the stock is trading in the oversold zone with RSI stands at 49.