Golden Grail Technology  (OTCMKTS:GOGY) is a fast-growing company with a strategic mission of innovating, building, and streamlining the growth of its beverage portfolio through fiscally responsible investing. The firm targets brands having a proven sales history, consumer following, retail, and robust value proposition. The company has been acquiring brands within the growing beverage and emerging categories. The product offerings include Trevi Fruit Essence Water, Spider Energy Drink, Tickle Water for kids, Cause Water, Sketch Can for Tweens & KOZ Water to lower global plastic pollution.
Market Action
On Tuesday, GOGY  stock fell 1.21% to $0.1505 with 44K shares, compared to its average volume of 82K shares. The stock moved within a range of $0.1480 – 0.1575 after opening trade at $0.1524.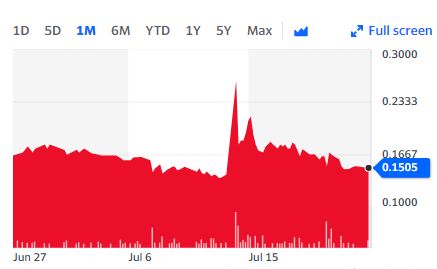 Golden Grail Tech Beverages Announces Over 50% of Sketch Can Production Run SOLD!
Golden Grail Technology on July 26, 2022, announced Exclusive Brands Group, which signed as a leading Florida distributor, purchasing more than 50% of its first production run of Sketch Can by Tickle Water. EBG would be distributing brands for upscaling resorts, supermarkets, family-friendly hotels, yacht clubs as well as natural grocers. Golden Grain has delivered on its mission of building and streamlining growth through the acquisition of distressed beverage brands, ensuring operational assessments, production and sales. The firm had announced the acquisition of Tickle Water in February 2022, post its hire of the former Creative Director of Tickle Water.
Steven Hoffman, CEO, of Golden Grail Tech Beverages said that just in 6 months, the team negotiated and finalized the fiscally responsible acquisition of the popular kids brand. Hoffman added that the company also managed to streamline the internal process of assessing the brand and updating it to today's modern consumer's needs. Hoffman said that he was proud of the team's achievements and is excited about getting into distribution and sales. He further stated that the company is relaunching brands with monetary discipline and more experience.
Golden Grail Tech Beverages Announces New Southeast Florida Coast Distribution Partner
The company on July 19, 2022, announced a partnership with Exclusive Brands Group for the distribution of its brands- Cause Water, Tickle Water's Sketch Can as well as Spider Energy Drinks. EBG is responsible for popular and affluent areas of Southeast Florida's coastlines. The company believes that people moving to Florida have increased, making it a growing and vibrant market.
Exclusive Brands Group specializes in launching the latest trends in new product lines in Miami. The firm works with suppliers for gaining an understanding of how the brand wants to communicate to consumers. EBG has over two and half decades of experience in the food and beverage world, allowing it to bring a unique and cost-effective approach to sales.
Hoffman opined that the team has been looking for strategic distribution partners and Exclusive Brands Group is the type of partner to build a successful relationship. Hoffman opined that EBG will be getting the first order in the summer.
Kevin Arn, Exclusive Brands Group, Owner and Operator said that Golden Grail presented forward-facing brands enabling it to do well in the territories it operates. Arn added that there is a demand for canned premium water, especially near the ocean.
Traders Note
GOGY stock is trading above the 20-Day and 50-Day Moving averages of $0.1654 and $0.1665 respectively. Moreover, the stock is trading is the oversold zone with RSI stands at 49.