Umbra Applied Technologies Group (OTCMKTS:UATG) is a firm focusing on advanced technologies across a number of disciplines. Located in Tampa, Florida, the firm has interests in both private and public companies during the initial stages of development with a synergistic business model.
Market Action
On Tuesday, UATG stock gained 8.33% to $0.0052 with 2.17 million shares, compared to its average volume of 3.11 million shares. The stock moved within a range of $0.0049 – 0.0059 after opening trade at $0.0050.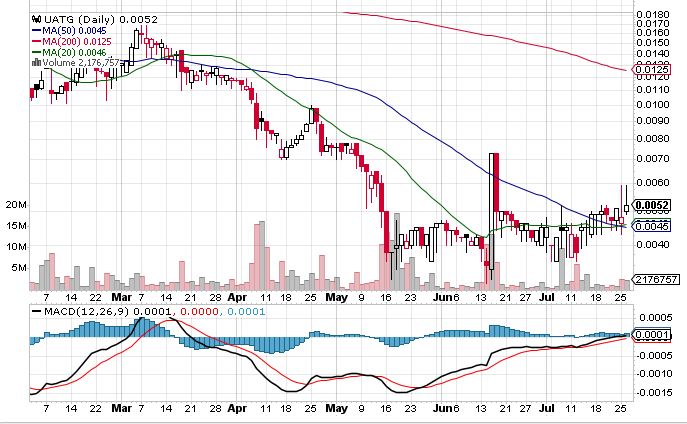 UAT Group Subsidiary, The Dreaming Company Announces Hygieia Bedding Line
Umbra Applied Technologies Group Inc on July 26, 2022, announced that its subsidiary, The Dreaming Company, is planning an expansion of the Hygieia product line with the launch of a fresh premium bedding line, Hygieia Sleep.
The Dreaming Company CEO, Blake Cooley said that the company has spent significant energy and time facilitating Americans to their inner goddess with the Hygieia Skin brand. Cooley added that Hygieia Sleep enhances great skin, and the company is working on engineering a total sleep experience from top to bottom in the next 2 years. Cooley further stated the company plans to leverage its existing customer base of more than 50,000 avid customers for re-engineering the way people sleep.
Manufactured from high-quality imported double-brushed 90 GSM microfiber yarns, Hygieia Sleep premium sheets are wrinkle-free and twice more durable than cotton. The sheets are engineered for comfort and breathability.
Designed with skincare benefits in mind, the new Hygieia Sleep bed sheets will be having 18-inch-deep pockets, as well as extra wide elastic, which come with environmentally sustainable packaging. The product will be available for the 2022 holiday shopping season while more colors and sizes will be rolled out in the next 18 months.
Umbra Applied Technologies Group Chief Executive Officer, Alex Umbra said that the complete ethos of TDC is to give products enhancing the quality of life. Umbra added that the initial bedding line will provide a sound sleep experience through scientifically engineered staple fiber. Umbra also said that quality sleep is imperative to maintain optimal levels of health and beautiful skin. The bed sheets will have 18-inch-deep pockets, moisture-wicking design and safe color dyes.
Key Quote
Umbra Applied Technologies Group Chief Executive Officer, Alex Umbra, commented, "The entire ethos of TDC is to provide products that enhance your quality of life. This initial bedding line has been targeted to provide a healthier sleep experience via a scientifically engineered staple fiber that is naturally antimicrobial and anti-mold. Quality sleep is essential in maintaining optimal levels of health, well-being and of course, beautiful skin".
UAT Group Subsidiary, Ossifix Orthopedics, Launching Demineralized Bone Matrix Product
Umbra Applied Technologies Group Inc on July 19, 2022, announced that the subsidiary Ossifix Orthopedics has made additional new products to its suite of orthopedic products.
The company is anticipating the product to the bottom line with year-over increases to rise by 20%. The demineralized bone matrix market is expected to reach USD 838.9 million by 2028, a CAGR of 4.3%.
Demineralized Bone Matrix is referred to as "crunch" and is made of 100% human bone tissue. Ossifix Orthopaedics contains no carrier or filler additives.
Ossifix CEO, Mark Estrada said that the freshly launched crunch has cancellous bone fragments for providing osteoconductive scaffolding promoting new bone growth. Estrada added that health care practitioners can add fresh marrow aspirate for promoting osteogenesis. The CEO anticipates manufacturing to trail the newly launched Javelin cortical allograft bone pin with 12%-20% growth, resulting in $1.1M in additional sales over the next five months.
Traders Note
UATG stock is trading above the 20-Day and 50-Day Moving averages of $0.0047 and $0.0045 respectively. Moreover, the stock is trading in the neutral zone with RSI stands at 63.