Galexxy Holdings Inc (OTCMKTS:GXXY) is operating as an agricultural supplier. The company's processes and proprietary systems harness resources like energy, water, capital, space, and labor providing the necessary nutrients and fertilizers to specialized growing industries focusing on hemp. The firm markets a diverse range of organic and non-organic nutrients, fertilizers, insecticides, pesticides, herbicides as well as mold treatment products. These are sold through wholesale channels, websites and retail besides offering DRIP irrigation products for indoor and outdoor applications. Earlier known as AgTech Global International Inc, the company is based in Newport Beach, California.
Market Action
On Wednesday, GXXY stock fell 7.52% to $0.1845 with 276K shares, compared to its average volume of 173K shares. The stock moved within a range of $0.1641 – 0.2290 after opening trade at $0.2069.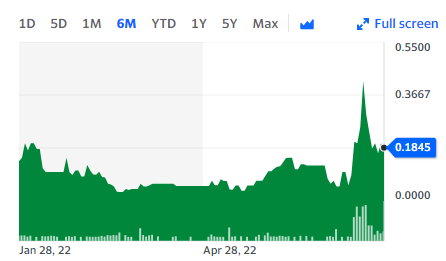 Galexxy Holdings Inc. to Acquire Wellbeing Farms LLC.
Galexxy Holdings Inc and Wellbeing Farms LLC on July 27, 2022, signed a Memorandum of Understanding for completing the 100% acquisition of Wellbeing Farms LLC. Galexxy Holdings Inc is a publicly traded company and will issue 30,000,000 shares of the restricted common stock from Treasury demonstrating 16.5% of issued and outstanding stock.
This will result in Galexxy consolidating several cutting-edge technologies as well as IP business assets for building a Techno-Health business focusing on upward trending product markets. These would be used for conditions such as anxiety, mental health, anxiety, inflammation, sleep as well as heart health for increasing focus on the whole wellness industry.
A privately owned company, Wellbeing Farms LLC specializes in the production as well as the marketing of proprietary CBD-Mushroom combination products. Its novel marketing plan has included promotional Billboards together with strategically located Smart e-kiosks providing same-day customer convenience.  The kiosks are a vital element of the plan to locate automated, intelligent vending systems having the potential to disrupt the vending machine industry.
Ross Lyndon-James, CEO of Galexxy said that the acquisition will expand the firm's product offerings as well as incorporates a novel marketing strategy for engaging tens of thousands of fitness, health, and social club locations. Michael Biagi, Wellbeing Farms COO expressed delight in merging operations into a listed firms as it strengthens the marketing strategy. The COO added that it would enable the firm to ramp up production. Furthermore, it will have near and long-term potential for disrupting the vending machine industry.
Galexxy Sells Subsidiary for Return of 50 million Shares to Treasury
Galexxy Holdings Inc on July 19, 2022, announced the selling of its 100% owned subsidiary, Galexxy Corporation to RxMM Health Ltd of Australia. With the payment, RxMM Health has given back 50 million shares to Galexxy Holdings treasury, lowering its total issued and outstanding shares by 50 million shares.
Owning the patent-pending Virtual Retail Marketing System technology and the GENUS range of proprietary CBD consumer products.Ross Lyndon-James said that the sale of Galexxy Corporation except for North American rights to VRMS and GENUS, will reduce 50 million of GXXY's issued shares. As per James, this will be a positive development for stakeholders and is consistent with a focus on the development of its North American market opportunities.