GGTOOR Inc (OTCMKTS:GTOR)  is engaged in the business of eSports. The firm is aggressively entering Metaverse having bought enough virtual land, 4,144 parcels, for forming its own virtual city, GGTOORCITY. The company has more than two hundred twenty video game tournaments. It has also given more than $100,000 in cash and prizes. GGToor.com is being upgraded and customized, with the goal of becoming one of the most comprehensive gaming portals globally. It is now accepting subscriptions from gamers, players, and tournament organizers
Trading Data     
On Wednesday, GTOR stock moved down 5.02% to $0.0265 with more than 961K shares, compared to volume of 4.59 million shares. The stock moved within a range of $0.0247 – 0.0279 after opening trade at $0.0279.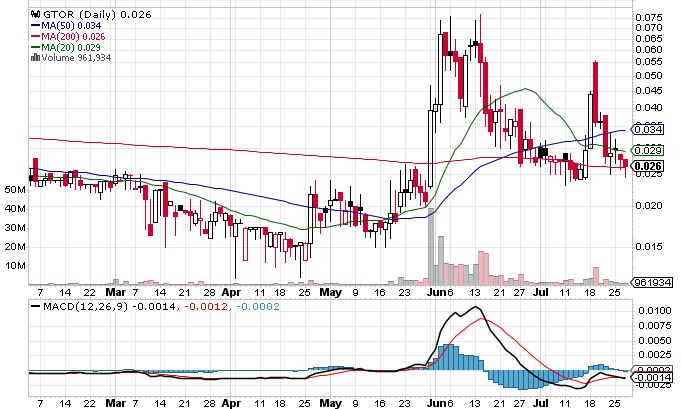 GGTOOR, Inc. (OTCMKTS:GTOR) Announces Management Report for the Week Ended July 23, 2022
GGTOOR Inc on July 27, 2022, announced that the firm has not inked any extra GGTOORCITY virtual property purchases. The firm believes that a "deal inked" happens when a buyer signs a legal and binding commitment. It has a number of pre-commitment clients who made verbal commitments for purchase but are now arranging finance before making a legal commitment. The company will provide updates to the public in real-time.
It returned to the complete schedule of tournaments. During Metaverse Expo 2022 from July 8th to 10th, the firm had just one tournament and was co-sponsored with TCG World. The firm offers events for a robust roster of established games and continues to add support for newer games. It is also developing fresh strategies for accelerating the growth of player registrations and has put another robust week, including the conclusion of the Clash of Clans event drawing over four hundred participants
GGTOOR Inks $1.8 Million Virtual Land Deal in GGTOORCITY
GGTOOR Inc on July 19, 2022, announced a deal worth $1.8 million USD selling a 256m x 256m parcel in GGTOORCITY. The sale is a result of the firm attending Metaverse Expo 2022. It was bought by BALLIN' IN THE METAVERSE, a web3 company founded by RJ White and Cory Warfield. It is incubated by cØlab studios –the first carbon-neutral web3 Launchpad.
RJ White, 2x Pro Team owner, became the First African American woman in history to own Pro men's division team in Europe. RJ White is building the world's first energy-sustainable multi-dimensional arena in Metaverse.
Cory Warfield, a philanthropist, visionary, and influencer, has matured into a keynote speaker. Cory loves innovation, equality, technology, and community. BALLIN' IN THE METAVERSE bought a significant piece of prime real estate in GGTOORCITY for replicating their stadium as well as the two pro-basketball teams owned by RJ.
Warfield said that the Metaverse is in the fourth-dimension transcending space and time. He added that eGaming and eSports are demonstrating higher revenues and market share than the movie and music industry already. Furthermore, he said that bringing real-world sports into the 'fourth dimension' adds revenue and engagement abilities to basketball and elucidates the mass-market potential of the Metaverse.
RJ said that letting players monetize contracts and careers for connecting deeply with fans and building brands can outlive time on-court. He added that they found perfect placement and partners in GGTOOR. BALLIN' IN THE METAVERSE is also talking to HOFers, and platinum recording artists and is developing first its own community, stadiums, teams, and tech, which will be accessible in the future.
Technical Data
GTOR stock is trading below the 20-Day and 50-Day Moving averages of $0.0309 and $0.0342 respectively. However, the stock is trading below the 200-Day moving average of $0.0263. The company has a total market capitalization of $26K. The stock is down 3% over the past 6 months.