Founded in 2007, the Pennsylvania-based Centric Bank (OTCMKTS:CFCX) has financial centers and commercial loan offices in several important cities. With assets of $1.1 billion, it remains a leader in organic loan growth. It has received numerous awards and accolades such as An American Banker 2021, 2020, 2019, and 2018 Best Banks to Work For, four-time American Banker Most Powerful Women in Banking Top Team, three-time Best Places to Work, and Top 50 Fastest-Growing Companies for eight years.
Market Action
On Thursday, CFCX stock ended flat at $9.84 with 100 shares, compared to its average volume of 8K shares. The stock moved within a range of $9.84 – 9.84 after opening trade at $9.84.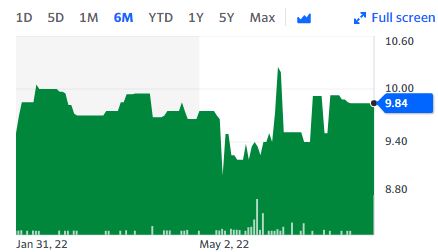 Centric Bank Announces Interim Chief Operations Officer
The banking subsidiary of Centric Financial Corporation, Centric Bank, has announced the appointment of Sandra J. Schultz as interim Chief Operations Officer until a replacement is hired for this role, on July 28, 2022. Ms. Schultz is Senior Executive Vice President and Chief Financial Officer.
Ms. Schultz has been in executive leadership at Centric Bank since 2008. Prior to that, she was responsible for the Bank's deposit operations beginning in 2008, with the addition of the loan operations and technology functions in 2014. Before joining Centric Bank, she was with Sterling Financial as Treasury Analyst and Officer, Assistant Treasurer and Controller at Pennsylvania State Bank, and has held varying roles in the finance area of community banks.
She did her MBA from Mount St. Mary's University in 2007 and is a graduate of Western Maryland College, with a bachelor' Degree in Accounting and Economics. Ms. Schultz has been recognized nationally four times for her role on a "Top Team" in American Banker's 25 Most Powerful Women in Banking recognition, an honor she has shared with the other women who comprise the senior leadership team at Centric Bank. She brings more than three decades of banking expertise to the table.
Centric Bank Promotes Christopher J. Bickel to Commercial Revenue Officer
On June 28, 2022, Centric Bank promoted Christopher J. Bickel, Senior Vice President, Market Leader Main Line, to the new position of Commercial Revenue Officer. His role is to drive revenue for the bank and oversee the Cash Management department. He will provide a new level of cash management support in the seven financial centers and three loan production offices across Centric Bank's market areas in central Pennsylvania and suburban Philadelphia. The focus will be on other areas too that are related to fee income in the commercial suite of products.
Chris started his banking career with Commerce of New Jersey and brings nearly 20 years of experience in the banking industry specializing in commercial lending, commercial real estate, and new business development.
Patricia (Patti) A. Husic, President & CEO of Centric Bank and Centric Financial Corporation, welcome Chris to his new position. She thanks him for boosting Philadelphia's loan portfolio and eventually 53% of Centric Bank's entire portfolio. She is hopeful that his input will be useful while understanding challenges and devising solutions accordingly. She said Chris is an ambassador for their Centric Bank Way relationship banking services in this region rich with entrepreneurs, health care professionals, commercial real estate owners, and business builders.
Technical Data
CFCX stock is trading below the 20-Day and 50-Day Moving averages of $9.68 and $9.63 respectively. However, the stock is trading above the 200-Day moving average of $9.56.