Development stage company, Stereo Vision Entertainment Inc (OTCMKTS:SVSN) on July 28, 2022 aims to operate as a diversified media entertainment company. The company focuses on production of existing and new feature films in 2-D and 3-D format for theatrical and direct to DVD release. Founded in 1999, the company is also focusing on licensing of film rights to video gaming industry.
Trading Data     
On Thursday, SVSN  stock moved down 37% to $0.0350 with more than 9.88 million shares, compared to volume of 341K shares. The stock moved within a range of $0.0255 – 0.0570 after opening trade at $0.0553.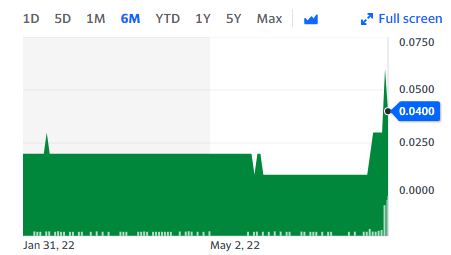 Dimitri Rakopoulos Joins Eco Allies Board of Directors
Eco Allies on July 28, 2022 announced that Dimitri Rakopoulos has joined the company's Board of Directors with immediate effect. A seasoned Executive with background in business administration and mechanical engineering, he finished studies at Queen Mary College and City University in London U.K. During the different business tenures, he held different positions from Running Plastics processing plants manufacturing PVC, PE and PP related products. He will be eventually raised to CEO's position. Dimitri has been doing business activities both in US and Europe between 1993 and 2010.
Dimitri led teams in designing of Advanced Oil and Gas Downstream projects,  advanced Fuels, which comes on stream between 2020 and 2050. He has been actively involved for about half a decade in integrated design of Projects pertaining to Climate Mitigation and Energy Transition.  He is responsible for monitoring all the Innovative technologies on Sequestration and Carbon Capture. Furthermore, he works closely with R&D Departments of DOE funded Universities in the country, big corporations providing Power Generation Solutions harnessing Green Hydrogen as next generation of net zero emission fuel for Industries.
The deep knowledge on technologies helps in contribution to growth of energy transition and the path to zero emissions, along with business experience in managing industrial operations. Dimitri has practical experience in Integrated approach of Carbon Emission reduction projects including Forestry, Renewable projects, low carbon fuel projects and recycling projects. Lastly, he is familiar with Registries approved by the United Nations Framework Convention on Climate Change, which authorize issuance of Carbon Offsets for Carbon Negative Projects.
Publicly-traded Nevada Corporation, Stereo Vision Entertainment in August 2021 had announced signing of independent auditing firm as well as securities law firm for filing of SEC Reg A and SEC Form 10. This will help the company become 'Fully Reporting' for planned uplisting to the OTCQB.
StereoVision's CEO Jack Honour said that it is a vital step in the company's vision to add shareholder value as well as kick in the corporate actions further. Honour added that the highly proficient accounting and legal professionals for the majority-owned Nevada ESG Benefit Company, Eco Allies Inc, was approved by the SEC in six working days with no comments.
A publicly traded company, StereoVision Entertainment utilises the award-winning team of industry professionals in areas of climate change mitigation. In addition, it creates and produces NFTs. and family-friendly multi-media content with it.
Traders Note
SVSN stock is trading above the 20-Day and 50-Day Moving averages of $0.0162 and $0.0144 respectively. Moreover, the stock is trading is the oversold zone with RSI stands at 45.