Headquartered in south central Pennsylvania, Centric Bank (OTCMKTS:CFCX) has assets of over $1.1 billion and provides competitive and pro-financial services to businesses, individuals, families, and professionals besides the healthcare industries. Named amongst the Top 200 Community banks in the country in the last four years, the bank was also featured in the Top 50 Top 50 Fastest-Growing Companies for eight years.
Trading Data     
On Friday, CFCX stock moved up 0.61% to $9.90 with more than 700 shares, compared to volume of 8K shares. The stock moved within a range of $9.85 – 9.90 after opening trade at $9.85.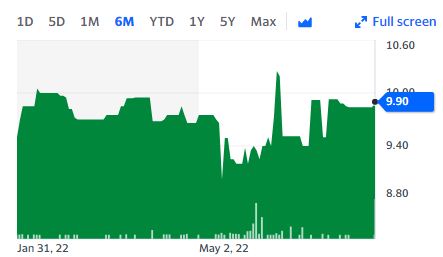 Centric Financial Corporation Announces Second Quarter 2022 Earnings
Centric Financial Corporation, parent company of Centric Bank, on July 30, 2022, confirmed net income of $2.9 million for quarter two of 2022. For first six months of the year, the firm's net income was $5.7 million, or $0.67 per common share diluted.
Some of the core highlights including loan growth of $29 million, annual growth of 14%. The institution's organic deposit growth was $1.4 million over prior quarter and increased or 5%, over second quarter of 2021. Its Net interest margin was higher by sixteen basis points over the first quarter. Another positive aspect was reduction in the cost of deposits by one basis point from quarter one to 0.36%. The firm's tangible book value per share of $11.72, increased by $0.28 per share from the previous quarter.
Patricia A. Husic, President & CEO of Centric Financial Corporation and Centric Bank said that the firm gave a robust organic loan growth, driven by commercial loans and real estate. Husic added that the annualized growth rate of 14% and the higher quarterly return on average assets, demonstrates sound direction. The CEO added that the loans are repriced with higher rates even as the volume of loan growth resulted in majority of the increase.
The bank's team is making business development efforts and is disciplined with pricing of both deposits and loans. Its non-interest-bearing deposits are consistent, accounting for 28% of total deposits. The expansion in greater Philadelphia region is maintaining momentum of on boarding customers. The CEO also stated that the institution is leveraging banking in communities and the success demonstrates the growth. As per him, loans in the region comprise 54% of the total balance sheet and 29% of total non-interest-bearing deposits. The company has made efforts to seize opportunities stemming from impact of past M&A in the Philadelphia region and is well positioned.
Centric Bank Announces Interim Chief Operations Officer
Centric Bank on July 29, 2022, announced appointment of Sandra J. Schultz as interim Chief Operations Officer. Currently, Schultz is Senior Executive Vice President and Chief Financial Officer.
She has been part of the leadership since 2008 and brings experience of loan operations and technology functions. With over three decades of experience, Schultz worked with Sterling Financial as Treasury Analyst and Officer, Assistant Treasurer and Controller at Pennsylvania State Bank before joining the Centric Bank. She received an MBA from Mount St. Mary's University in 2007 and has Bachelors' Degree in Accounting and Economics from Western Maryland College.
Traders Note
CFCX stock is trading below the 20-Day and 50-Day Moving averages of $9.68 and $9.63 respectively. Moreover, the stock is trading is the oversold zone with RSI stands at 53.