SportsQuest Inc (OTCMKTS:SPQS) operates beverage business from 10,000 sq foot Phoenix AZ the core business model. The firm is engaged in some R&D of green energy or solar-powered product lines including "unicorn" type of products. It also operates in non-aligned industry, encompassing emerging technologies with hyper-growth type opportunities.
Market Action
On Friday, SPQS stock gained 13.73% to $0.0029 with 8.98 million shares, compared to its average volume of 3.67 million shares. The stock moved within a range of $0.0025 – 0.0032 after opening trade at $0.0027.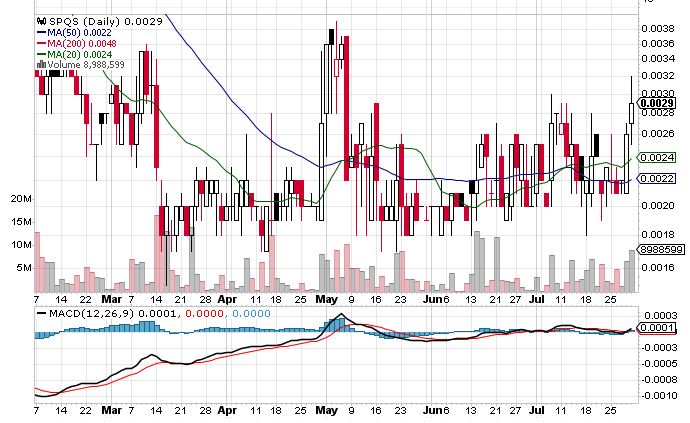 SportsQuest, Inc (OTC: SPQS) Successful in Administrative Hold On Over 1,2 Billion Common Shares Previously Issued
SportsQuest Inc on July 29, 2022, confirmed on conducting detailed investigation and put together some issued 1,2 Billion shares to a number of shareholders. The ex-management issued the shares without the firm getting any consideration assets. SportsQuest has been successful in putting administrative hold on the shares with new transfer agent Empire Stock transfer till a lawsuit is launched for recovering shares. It has retained New York based barrister Martin Shell ESQ for representing SPQS interests. Complaint will be done soon, mostly in Federal Court in New York.
Interim CEOIrina Veselinovic said that till the situation is resolved, no extra shares would enter the market. The CEO added that the firm is continuing to build a beverage and packing business. It has adopted complete transparency model,acknowledged by many of the shareholders. Veselinovic further stated that the firmacknowledges hard workas well as efforts ofMs. Kathryn Gavin, theconsultant and advisor who helped in landing many contracts as well as signed LOI. The CEO added that these would be separately announced once bona fide purchase orders are done in the next couple of Quarters. Furthermore, it is progressing on the 1stline for production by start of September 2022.
The company has aspirations of purchasing second line through an auction in August 2022 and intends to start a second line by October 2022 if successful. SportsQuest Inc is making efforts with pink Australia energy as well as acquisition, merger and take over discussions with the earlier announced targeted candidates.
Earlier, SportsQuest in May 2022, had announced foray into the water packaging industry. The bottled water packaging market, which was valued at USD 181.70 billion in 2020, is expected to reach USD 278.31 billion by 2026. The firm also retained Phoenix based consulting firm AZ Water Co for assisting in the launch of its new start-up water project www.clearvoda.com.
SportsQuest had secured financing, enabling it to launch the second water division. CEO Katie Gavin HIRU CEO has much experience in water industry. Katie said that HIRU is operating at full capacity with three operating lines. She added that the company views SPQS as an outlet to outsource the overflow of business. HIRU will be given a fraction of the percentage of monies on each bottle as a "royalty" fee. This can result in a margin of several hundred thousand dollars every year or around $1 million.
Jeff Burns CEO of SPQS said that Katie will be the SPQS Interim COO and beverage advisor, and the Water Division will be operating as a separate division from the current core business model Magnum first, engaged in production and distributing smart electrical devices for the institutional market.
Technical Data
SPQS stock is trading above the 20-Day and 50-Day Moving averages of $0.0024 and $0.0022 respectively. However, the stock is trading below the 200-Day moving average of $0.0048. The company has a total market capitalization of $10.85 million. The stock is up 45% over the past month.