Centric Financial Corporation is operating as a holding firm for Centric Bank (OTCMKTS:CFCX). It provides different banking products as well as services. The institution gives checking accounts, individual retirement accounts, certificates of deposit as well as savings and money market accounts. Additionally, it also provides personal and auto loans, business loans, home equity lines, commercial real estate loans and government-guaranteed loans besides lines of credit and financing for doctors and professional practices.
Furthermore, Centric Bank gives cash management services, residential mortgages, and credit cards. It is also giving leasing services for business equipment and bank services like debit cards, telephone banking, ATM cards, and bounce protection. Centric gives services through seven full-service offices in Dauphin, Lancaster, Cumberland, Bucks, and Chester Counties. Headquartered in Harrisburg, Pennsylvania, the company has a loan production office in Chester County and some more banking channels.
Trading Data     
On Monday, CFCX stock ended flat at $9.90 with more than 700 shares, compared to a volume of 8.03K shares. The stock moved within a range of $9.90 – 9.90 after opening trade at $9.90.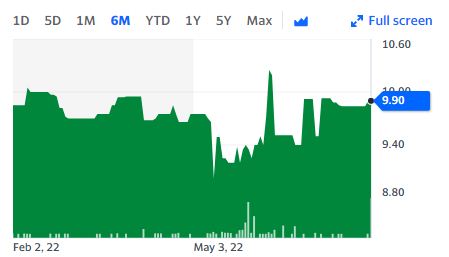 Centric Bank Promotes Maura Cohen to Vice President, Director of Mortgage Services, and Consumer Lending
Centric Bank on August 1, 2022, promoted Maura E. Cohen to Vice President, Director of Mortgage Services and Consumer Lending.
Husic said that Maura was one of the earliest team members when the institution went on its vision of a community bank. Furthermore, Husic said that Maura has been a resolute employee for over one and half decades. Maura keeps customers at the center of each process, enabling the move from a top consumer loan underwriter to a management role. Her role as Director of Mortgage Services is due to her consistency, which will augment the bank's profitability. An early ambassador of Centric Bank Way, Laura is continuing to expand community outreach for first-time homebuyers.
In the previous role as Vice President, Mortgage Operations, and Consumer Lending Manager, Cohen monitored mortgage processing, and settlements, adhering to quality control standards. She will be responsible for eight team members in mortgage and processing, underwriting, and quality control.
Cohen said that assisting families and individuals realize dreams of home ownership and assisting them with the first steps to creating economic stability is her passion. Cohen expressed delight in being part of a team that is true to the mortgage clients.
Centric Financial Corporation Announces Second Quarter 2022 Earnings
Centric Financial Corporation on July 30, 2022, confirmed having a net income of $2.9 million for quarter two of 2022. The company's net income was $5.7 million for the first six months of 2022.
Patricia A. Husic, President & CEO of Centric Financial Corporation and Centric Bank said that the company delivered a robust quarter of financial results. Husic added that the organic loan growth for the quarter was $29 million. This was driven by real estate and commercial loans. He further stated that the annualized growth rate for the quarter was 14%.
The team continues to make efforts toward both loans and deposits. Its Non-interest-bearing deposits remain consistent with quarter one results and the expansion in the greater Philadelphia region is driving good momentum.
Technical Data
CFCX stock is trading above the 20-Day and 50-Day Moving averages of $9.68 and $9.63 respectively. However, the stock is trading below the 200-Day moving average of $9.56. The company has a total market capitalization of $86.55 million.