Diversified company, Sanwire Corporation (OTCMKTS:SNWR) focuses on technologies for the entertainment industry. The company has been engaged in aggregating technologies for several years. It scouts for opportunities in fragmented markets, where technology can be applied for consolidating services into single platform of delivery. The present focus is advanced entertainment technologies.
Market Action
On Tuesday, SNWR stock soared 62% to $0.0076 with 1.12 million shares, compared to its average volume of 124K shares. The stock moved within a range of $0.0061 – 0.0090 after opening trade at $0.0061.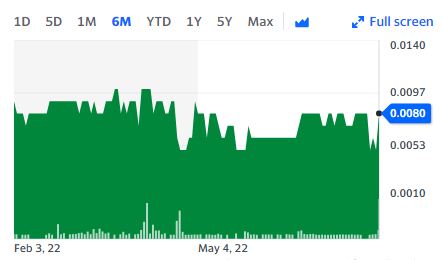 Sanwire : Intercept Music, a Sanwire Corp. Subsidiary, Announces Almost 400% Increase in Streaming Figures
Intercept Music Inc, a wholly owned subsidiary of entertainment-technology innovator Sanwire Corporation, on August 2, 2022, announced a 396% increase in May 2022 month-over-month streaming figures to 8.6 million streams.
The partnership launch with Method Man in April contributed significantly to higher streaming figures, which would be demonstrated in the second quarter revenues. The recently announced partnerships with 7,000 song reggae catalog, LitcoCenterpoint as well as other labels enabled higher streaming and revenue figures.
Tod Turner, Intercept's CEO expressed excitement on announcing the verified streaming figures. Turner added that it is incredible to see the long-term marketing strategies as well as operational excellence resulting in pay off. Turner further stated that the streaming cycle is 3-4 months from uploading a song to receiving royalties.
Sanwire : Intercept Music, a Sanwire Corp. subsidiary, Partners With International Urban Lifestyle Marketer Litco Entertainment to Form New Urban Music Label
Intercept Music on July 25, 2022, announced a multi-year marketing and distribution partnership agreement with Litco Entertainment, a global leader in urban marketing.
Litco has significant connections in the music business, with several relationships including Tjay, Grand theft auto, Offset, OBI (reggaeton), Young Thug, Lil pump, Gunna, Lil Mosey, Trippie Red, and Lil Baby. Method Man was even on-site for opening Litco store in Los Angeles. Litco, which has deep roots in the Urban Music business has recently witnessed more than a  million views for an Atlantic Records project.
Mr. Zach Selvin (Res) said that Litco is a vibe and not just business. Selvin added that the company is about underdogs, having a chance to win. Selvin added that the company wants to include the community and demonstrate the challenges given the members need a platform for becoming successful. Selvin further stated that if one is an author in the neighborhood, Litco has a shop to allow reading books. In case someone is a visual artist, there is a place to hang paintings. Furthermore, musicians can demonstrate their talent. Hence, Intercept Music's platform can enable jump-start the label to begin immediately helping artists achieve their dreams.
Tod Turner, CEO of Intercept Music said that the firm is thrilled on teaming with Litco and Res. Turner further said that Res's deep marketing expertise in the music industry can add much value to the business as its philosophy is about lifestyle. Turner feels that Urban Music is one of the centerpieces.
Litco will start promoting the label through extensive connections in Latin America and United States. The artists have a fantastic chance to work with the novel label platform, harnessing the global marketing services from Intercept's toolbox.
Traders Note
SNWR stock is trading above the 20-Day and 50-Day Moving averages of $0.0076 and $0.0077 respectively. Moreover, the stock is trading is the oversold zone with RSI stands at 55.