Impact Fusion International Inc (OTCMKTS:IFUS) is engaged in the business of marketing products in the "Health and Wellness" sector in all international markets. The company's vision is to invent, develop as well as market proprietary products globally for the health and well-being of animals and humans.
Trading Data 
On Tuesday, IFUS stock moved up 3.63% to $0.0200 with more than 1.68 million shares, compared to a volume of 303K shares. The stock moved within a range of $0.0190 – 0.0250 after opening trade at $0.0215.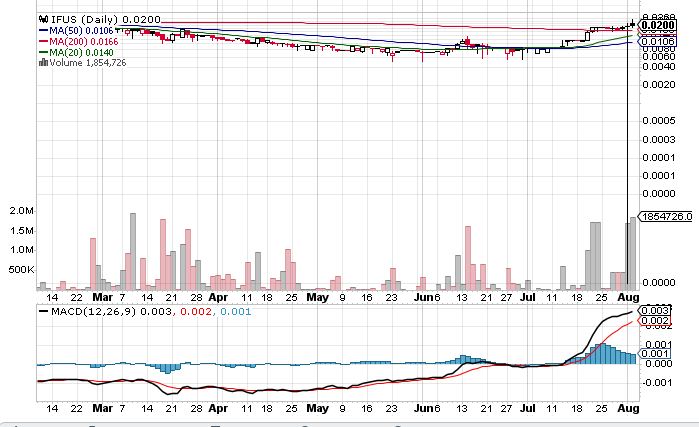 Impact Fusion International Inc. Pays its Outstanding Taxes for its Property in Napoleonville, LA
Impact Fusion International Inc on August 3, 2022, announced paying the taxes due on property located at 204 Highway 1011 Napoleonville, LA 70390. The company's 62-acre property is home to the Supreme Gold Plus brand production plant. Its proprietary Nutri-Mastic component is infused with sugar cane waste fiber, known as Bagasse, and creates a cattle feed supplement, which is a novel one globally. The product has been accepted by ranchers in Texas, Mississippi, and Georgia.
Impact Fusion is the only plant of such kind globally. The firm is committed to addressing the scarcity of quality animal feed for ranchers throughout the United States. Shortages have been a result of the drought, wildfires, and also the nonavailability of fertilizer for the growing season due to the Ukraine conflict. As a result, these, ranchers, both horse and cattle, unable to secure good feed are likely to slaughter them.
The firm is working on filling the backlog of orders from ranchers, mostly in the hard drought-stricken areas of the American Southwest. Customers have the option to travel to the plant in Napoleonville for picking up bagasse. They can even opt on having the Supreme Gold Plus brand with proprietary Nutri-mastic shipped directly to the ranches or feedlots. It has a capacity of 35 bales per hour of production weighing 2200 lbs each.
Impact Fusion International Inc. Business Model Aims To Create Jobs, Reduce Greenhouse Emissions And Manufacture Superior Alternative Cattle Feed
In February 2022, the company had written a letter to its shareholders in which it stated that American ingenuity has been a hallmark of American business. For centuries, Americans have felt a need to find solutions and then sold the same to the American people and also the world.
The country is faced with millions of tons of waste sugarcane fiber known as Bagasse. It stated that there must be a way for reducing cattle feed prices resulting due to droughts, especially due to climate change. The country is committed to lowering greenhouse gas emissions such as carbon dioxide and Methane causing climate change resulting in firestorms, floods, and droughts.
Impact Fusion's business model results in new jobs, assisting in lowering greenhouse emissions by more than 94 million head of cattle. It repurposes millions of tons of sugar waste fiber in states growing sugar cane.
Florida, Louisiana, and Texas have 903,400 acres dedicated to producing sugar cane. The company this stores the bagasse on its property in Napoleonville, LA. The company said that it can make a lot of contributions to repurposing the sugar cane waste issue, creating jobs as well as addressing the cost of cattle feed by providing a feasible and sound solution to hay. The result will be healthier cattle, lower beef costs as well as preservation of the American BBQ.
Technical Data
IFUS stock is trading above the 20-Day and 50-Day Moving averages of $0.0512 and $0.0106 respectively. However, the stock is trading below the 200-Day moving average of $0.0166.