Umbra Applied Technologies Group Inc (OTCMKTS:UATG) operates as a green technology development, fabrication as well as commercialization company. The firm is engaged in developing and manufacturing equipment, products as well as systems for global remediation projects. The technologies include oil and sand processing, power generation, oil share processing, water remediation, salt water oil spill remediation, water desalinization as well as e-waste remediation. Earlier, the firm was known as Green Processing Technologies, which was changed to Umbra Applied Technologies Group Inc. in January 2014. Headquartered in Tampa, Florida, the firm is a subsidiary of Green Processing Technologies, Inc.
Market Action
On Thursday, UATG stock gained 3% to $0.0058 with 1.62 million shares, compared to its average volume of 3.11 million shares. The stock moved within a range of $0.0055 – 0.0060 after opening trade at $0.0056.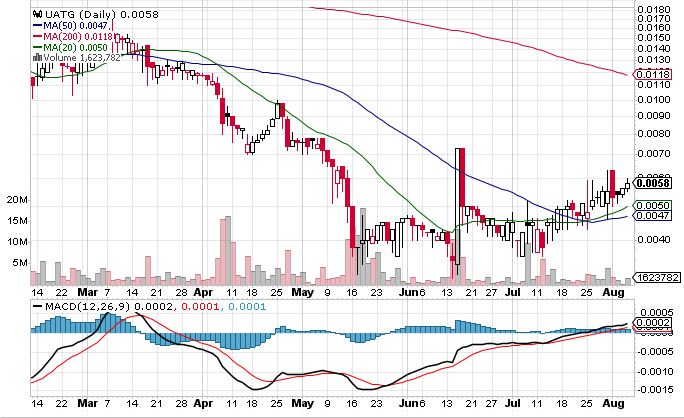 UAT Group Subsidiary, H2O Processing to Begin Delivery of Testing & Calibration System
Umbra Applied Technologies Group Inc on August 4, 2022, announced that subsidiary, H2O Processing, will commence delivering a industry specific, proprietary testing and calibration system for calibrating metal ion processes for larger industrial iron removal system, to sites in south Texas. First unit is in production and will be on site within weeks.
H2O Processing CEO said that the new system is designed for processing smaller quantities of client's delivered crude. The CEO added that currently nothing exists for on-site testing and calibration, ensuring that the firm needed to create equipment enabling efficient process to treat larger quantities of contaminated crude. The CEO also opined that including this as first step becomes screening mechanism to increase throughput.
Metals in crude oil have potential of interfering with oil refining processes through coke formation, making many refineries not accepting heavy crude with high metal ion count.Many oil producers exceeding an iron range of 0-10 ppm are penalized between $10-$40 per barrel of oil. The company said that several oil producers are holding and storing oil, which cannot be sold. The new technology resolves this global issue.
UAT Group Subsidiary, The Dreaming Company Announces Hygieia Eye Gel
Umbra Applied Technologies Group Inc on August 2, 2022, announced that the subsidiary, The Dreaming Company, is expanding Hygieia product line with launch of premium revitalizing eye gel.
The Dreaming Company CEO, Blake Cooley said that the firm engineered Hygieia Eye Gel for redefining the standard in under eye care. Cooley added that addition will help women embrace inner goddess.
Manufactured in United States from highest quality ingredients, the anti-aging eye cream has been done for improving swollen under eyes. The product from Hygieia Skin Care team encourages natural production of energy within cells.
Hygieia Eye Gel, paraben free, has antioxidant properties for strengthening skin's defenses, minimising aging, fatigue as well as dullness. The product reduces formation of fine lines as well as wrinkles in way similar to botulinum toxin (Botox). The gel gives radiance to the eye area and reducing imperfections, leaving the skin smooth and hydrated. Clay-based matrix shields sensitive skin around eyes from the appearance of darkness.
Traders Note
UATG stock is trading above the 20-Day and 50-Day Moving averages of $0.0051 and $0.0047 respectively. Moreover, the stock is trading is the oversold zone with RSI stands at 62.