The principal investment firm, Mill City Ventures III Ltd (NASDAQ:MCVT), specializes in investments in debt and equity securities of public and private companies. This helps in funding operations of an acquisition, start-up, or even growth. The firm focuses on lending, investing, and making managerial assistance to publicly traded and privately held companies. Mill City Ventures also advises portfolio companies on operations and finance. Earlier, it was known as Poker Magic. Founded in January 2006, it is based in Minnesota.
Trading Data     
On Monday, RHCO stock gained 7% to $0.0481 with more than 1.4K shares, compared to a volume of 78K shares. The stock moved within a range of $0.0481 – 0.0538 after opening trade at $0.0538.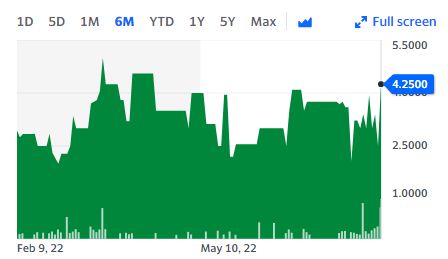 Mill City Ventures III, Ltd. Announces Pricing of $5.0 Million Public Offering and Concurrent Uplisting to the Nasdaq Capital Market
Mill City Ventures III on August 9, 2022, announced the pricing of an underwritten public offering of 1,250,000 shares of common stock at a public offering price of $4.00 per share. This will aggregate gross proceeds of $5,000,000 before commissions and discounts. Furthermore, the firm has given permission to underwriters for a 45-day option to buy about 187,500 additional shares of common stock. It is expected to start trading on the Nasdaq tomorrow.
The firm will be implementing a reverse split of the outstanding and issued shares of common stock at a ratio of 1 for 2.25. The reverse stock split will be effective by August 9, 2022. The offering will close on August 11, 2022, subject to customary closing conditions. Mill City Ventures is aiming to harness the net proceeds of the offering for general corporate purposes, including expanded sales, working capital as well as marketing activities.
Mill City Ventures III, Ltd. Reports Quarterly Results
Mill City Ventures III Ltd on May 16, 2022, revealed the net income and revenue for the quarter ending March 31, 2022. The filing of the quarterly report on Form 10-Q was done by May 13, 2022. As per the filing, the interest income from lending operations surged to 83% to $1 million as compared to $546k for the prior-year period. Furthermore, the Pre-tax earnings from lending operations augmented to $454k vis-à-vis $12k in the prior-year period. The company's shareholder equity increased to $13.8 million, from $13.4 million on December 31, 2021.
Chief Executive Officer Douglas M. Polinsky said that the company has achieved the ninth record quarter in both earnings and income from lending operations. Polinsky added that the firm continues to witness robust demand for loan products and has been able to maintain a zero-loss ratio in the loan portfolio.
The CEO also said that the establishment of a $5 million line of credit in quarter four enable the firm to leverage equity and grow the loan business substantially. He further stated that the revenue growth is outpacing the growth in operational expenses.
Mill City is exploring potential opportunities in title loans, real estate bridge loans as well as litigation financing. It had also filed an S-1 registration statement for a potential common stock public offering. The firm is also working with the counsel and NASDAQ for acquiring a listing on the exchange.
Technical Data
RHCO stock is trading above the 20-Day and 50-Day Moving averages of $0.0424 and $0.0404 respectively. Moreover, the stock is trading above the 200-Day moving average of $0.0462.