Diversified holding company, (OTCMKTS:RHCO), has an operating history of over three decades. The company seeks opportunities for acquiring and growing businesses, which can generate long-term sustainable free cash flows as well as attractive returns. The intent is to maximize value for shareholders. The firm has subsidiaries and liaison offices in Europe and Asia.
Trading Data     
On Monday, RHCO stock gained 7% to $0.0481 with more than 1.4K shares, compared to volume of 78K shares. The stock moved within a range of $0.0481 – 0.0538 after opening trade at $0.0538.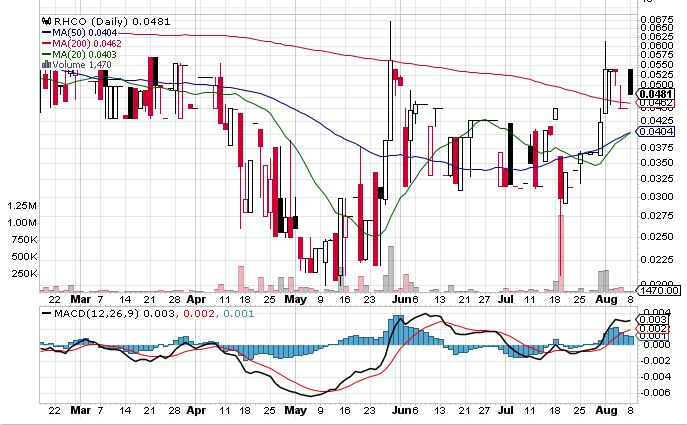 Readen Holding Corporation Announces Appointments Of New CFO And GM
Readen Holding Corporation, engaged in online payments, fintech, and e-commerce, on August 8, 2022, announced the appointment of Siegfried Yu as Chief Financial Officer and Ernest Kwan as the General Manager of OkeApp.
Yu is a Chartered Certified Accountant with over 25 years of experience in Finance and Accounting. Having worked for engineering, accounting, trading as well as manufacturing companies, Yu has significant experience in Asian markets like Mainland China, Hong Kong and Southeast Asia. He also has experience in corporate governance, legal compliance as well as the pre-IPO process.
On the other hand, Kwan is a sales and training expert with experience in retail for 25 years. Having worked in the financial planning and insurance sector in his early years, he strengthened his skills in sales, telemarketing, and team-building with his role in Hong Kong Jockey Club and Shop.com. Prior to RHCO, Kwan was Senior Supervisor of Shops of Circle-K, operating over 300 convenience stores in Macau and Hong Kong. He will be leading the sales team, responsible for recruiting OkeMerchants, OkePartners,and alsoOkeMembers. The firm also announced the soft launch of OkeApp early this year, with OkeMembers enjoying many discounts offered by the OkeMerchants.
Richard Klitsie, CEO of RHCO expressed delight in expanding the team and welcomed Siegfried and Ernest with great expectations. Klitsie added that Siegfried will be helping speed up the up-listing process while Ernest will be the correct leader for expanding numbers of OkeMerchants, OkePartners and OkeMembers. As per the CEO, this is a big step in the launch of a prominent discount referral app globally.
RHCO had announced earlier about the OkeApp, a unique discount referral app, which was under beta testing for the last 3 months. OkeApp will be launching a travel membership program: Oke Travel Club.
The club, a worldwide selection of travel-related services, is designed to give OkeApp members significant price reductions on most travel needs. RHCO signed a partnership agreement with one of the largest travel services in the United States. This will enable Oke Travel Club to give discounts of about 50% off for hotels, resorts, theme parks, air tickets, cruises, car rentals besides dining and entertainment globally.
It also gives a selection of over a million locations of resorts and hotels along with 60,000+ restaurants as well as 500+ airlines and 50+ major cruise lines. These include brands in car rentals, Domino's in Food, Costco in retails, Foot Locker in sports goods, and Walt Disney World in theme parks.
Technical Data
RHCO stock is trading above the 20-Day and 50-Day Moving averages of $0.0424 and $0.0404 respectively. Moreover, the stock is trading above the 200-Day moving average of $0.0462.