Based in Texas, HXPN Inc. (OTCMKTS:HXPN) is engaged in the acquisition and development of emerging technologies impacting daily life. The firm is looking to take mineral resources required for energy production, which would enable the sustainability of daily life in the ever-changing world.
Trading Data 
On Tuesday, HXPN stock ended flat at $0.0418 with more than 60 shares, compared to volume of 2.8K shares. The stock moved within a range of $0.0418 – 0.0418 after opening trade at $0.0418.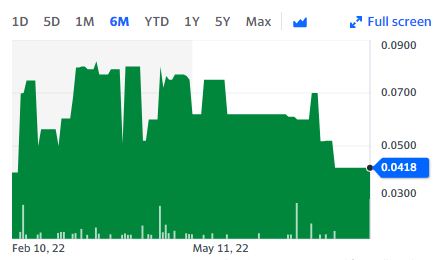 HXPN, Inc. announces Purchase of Working Interest in Bayou Villars Field, South La; Relocation of HXPN, Inc Headquarters to Frisco, TX.
HXPN Inc on August 9, 2022, announced the closing of the acquisition of twenty-five percent working interest in a producing oil field in Louisiana mineral leases. Discovered in 1955, the Bayou Villars field is currently owned by Northcoast Oil Company of Covington, La, and is operated by ExPert Oil & Gas, LLC of Madisonville, La. The field has produced about 700,000 barrels of oil since the inception of drilling in 2003 and 2004.
Reserves in the other behind-pipe, as well as undeveloped sands, will be more than one million barrels. Over 466,000 of the reserve barrels are proven while the remaining ones are classified as probable.
ExPert will be finishing a thru-tubing plugback in the existing wellbore in the coming month. The production rate is expected to be 150 barrels of oil per day. Future projects include a side-track from the existing wellbore, which may double the field's daily production rate to about 300 barrels per day. The 2023 project will reclassify the balance of 500,000 plus reserve barrels from probable to proved. Net Revenue Interest of HXPN's working interest is 72% and the company will record the proportionate share of proved reserves in quarter two of the financial statements.
Steve Bailey, President, and CEO of HXPN said that the company is excited about the opportunity to work with ExPert and Northcoast on the project. Bailey added that working with both organizations over the last decade makes him sure that HXPN will get top-tier service and professionalism with the forthcoming projects.
HXPN, Inc. announces Investment with Mid-Con Energy Operating, LLC
In April 2022, HXPN announced signing a Letter of Intent with Oklahoma-based oil and gas exploration company, Mid-Con Energy Operating LLC for investing about $100 million in various projects. Mid-Con has expertise in secondary recovery in existing oil friends, which have lost reservoir pressure.
The company has identified several projects as well as prospective fields and expects to move quickly for acquiring the necessary lease acreage. Its current projects are located in oil-rich basins throughout the Midwest. As per the firm, almost, there are over ten million barrels of potentially recoverable reserves.
Steve Bailey, President, and CEO of HXPN said that the company is excited about having the opportunity to work with Randy Olmstead and the Mid-Con team. Bailey added that Randy and Mid-Con team have identified a number of exploitation opportunities, which can be realized at attractive economics.
Randy Olmstead, Founder, and Manager of Mid-Con said that the firm is pleased on working with HXPN for closing the transaction. Olmstead added that HXPN will facilitate realizing the firm's goals and creating long-term value in the projects being developed.
Technical Data
HXPN stock is trading below the 20-Day and 50-Day Moving averages of $0.0597 and $0.0663 respectively. Moreover, the stock is trading below the 200-Day moving average of $0.0634.