The multifaceted consulting firm, Golden Triangle Ventures (OTCMKTS:GTVH), is engaged in the health, technology, entertainment, fulfillment and food, and beverage industries. The firm aims to buy, acquire, and establish joint ventures with entities, which management can help develop into novel opportunities. Furthermore, GTV gives professional corporate representation services to various companies in the sectors. Goods and services are driven by innovatorshaving a passion for marketplaces. GTV is planning to harness relationships and create a platform for existing and new businesses for strengthening products.
Trading Data 
On Wednesday, GTVH stock fell 7% to $0.0100 with more than 1.94 million shares, compared to volume of 686K shares. The stock moved within a range of $0.0095 – 0.0112 after opening trade at $0.0112.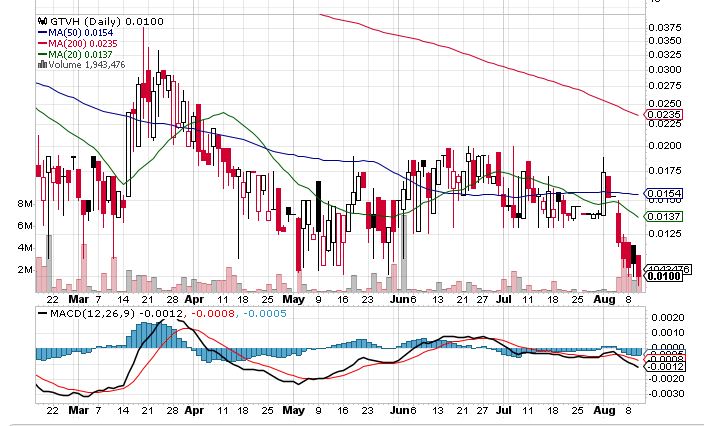 Golden Triangle Ventures Inc. Announces Sounder Fulfillment's Entry into the Brazilian CBD Market
Golden Triangle Ventures Inc on August 10, 2022, announced a fresh milestone for Sonder Fulfilment with the successful entry into the Brazilian CBD market. Sonder Fulfillment recently implemented an initial order for a fresh client, Volcanic Green. The company is expanding its CBD line into an increasing CBD market in Brazil.
The initial line will comprise of two tincture formulas, formulated for both day and night applications. It will also have general wellness gummies. Sonder finished production of the initial order and shipped it to Volcanic Green's fulfillment center in Miami.
The milestone marks a significant achievement as entry into the Brazilian market is highly regulated and complicated. Presently, cannabinoids can be only bought with prescriptions issued by government-certified medical professionals. Any cannabinoid-derived product must be approved by the country's health regulatory agency, Anvisa.
Joshua Weaver, vice president of Sonder Fulfillment said that the firm has worked hand-in-hand with Volcanic Green for a number of months for navigating the regulatory environment. Weaver added that the company formulated the initial line of products besides designing the brand. Furthermore, he said that the firm has given critical assistance for logistics and believes that the partnership will be a longstanding one. Weaver is looking forward on a bright future ahead in one of the newest CBD markets globally.
The Vice President also looks forward on expansion into other Latin American countries. Weaver opined that Volcanic Green is working with Sonder for expanding distribution networks for Le Pragma within Europe to accomplish goal of becoming a world leader in production and distribution of cannabinoid-driven wellness.
Golden Triangle Ventures, Inc. Announces Initial Analyst Coverage Report by Fundamental Research Corp., Marketing Engagement with North Equities Corp.
Golden Triangle Ventures on July 28, 2022, had announced release of initial equity analyst research report published by a Vancouver, Canada-based investment research company, Fundamental Research Corp. The firm forayed into six-month marketing and consulting contract with North Equities Corp,Toronto-based marketing firm specialising in diverse social media platforms. GTV will be able to facilitate more awareness and dissemination of the firm's news.
Steffan Dalsgaard, CEO of Golden Triangle Ventures said that the company is delighted on releasing the first of eight quarterly research reports. Dalsgaard added that the entire team is working on delivering robust value proposition to shareholders. As per the CEO, the firm is stronger than before, and the management is confident on the ability to deliver substantial value to shareholders.
Technical Data
GTVH stock is trading below the 20-Day and 50-Day Moving averages of $0.0134 and $0.0154 respectively. Moreover, the stock is trading below the 200-Day moving average of $0.0235.